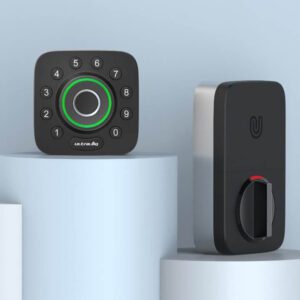 The Ultraloq U-bolt Pro Wifi is a Durable smart lock offering the most unlocking capabilities. You can use your fingerprint, keypad, the app, apple Watch, key, or voice commands to unlock it, ensuring you never get locked out of your house again.
PROS:
Multiple ways to unlock your door: backlit numeric keypad, fingerprint scanner, key, and voice commands through Alexa and Google Assistance
Built-in Wi-Fi connectivity enables remote access and control through a smartphone app
Durable and robust design for increased security and longevity
Smart auto lock and unlock with a door sensor for hands-free operation
CONS:
The fingerprint scanner may be unreliable in some cases
The backlit numeric keypad can be hard to see in low-light conditions
No support for Apple HomeKit integration
Expensive
Ultraloq U-bolt pro wifi features
Versatile Locking Options:
The U-Bolt Pro Wi-Fi supports an impressive range of six different methods for locking and unlocking, encompassing both physical and electronic options. Firstly, there are phone-based choices available: Aside from the large on-screen button, you can activate a GPS-powered geofence which automatically engages the lock when you exit the designated area, as well as Bluetooth which automatically unlocks it when you approach.
In addition, the Magical Shake feature allows you to open your door by shaking your phone.
Moreover, there is an Apple Watch app available, which I found particularly useful when my phone was tucked away. However, the quickest (and most enjoyable) option is the fingerprint reader, which enables the storage of two fingerprints per user. It is a simple feature to set up and in my trials, it performed without issue. While you may lose your phone or keys, or forget a key code, your finger is always with you.
There's also open-door detection, which can detect when the door is partially open. This feature is handy if your children have a habit of leaving the door ajar.
You can set up almost endless automation with your smart lock and other smart home devices. For example, set your front door lock automatically as soon as your smart porch light is activated.
In case all other entry options fail, there is always the option to use a traditional metal key by simply opening the front face of the lock.
The built-in Wi-Fi feature:
The lock's built-in Wi-Fi boasts exceptional performance based on my range tests. This feature makes it an ideal choice for doors located several rooms away from your router. Additionally, it supports voice controls through Alexa or Google Assistant, although it's worth noting that Apple HomeKit compatibility is not available.
Ultraloq U-bolt pro wifi installation :
Installing the U-Bolt Pro Wi-Fi smart lock is relatively straightforward, especially if you're replacing an existing deadbolt on a standard door. In this case, the installation process should be easy to complete without drilling any holes or adjusting the door strike, and you can expect it to take around 20 minutes. However, if you're installing the lock on a new door and/or frame, the process may take longer and require additional steps.
The instructions are presented lucidly with accompanying illustrations to assist you every step of the way. Furthermore, there is an introductory mention of a tutorial video. To access it on your mobile device, you may scan a QR code or utilize the URL given.
Similar to several other smart home gadgets, it is important to note that the lock does not have dual-band Wi-Fi functionality and necessitates a 2.4GHz internet connection.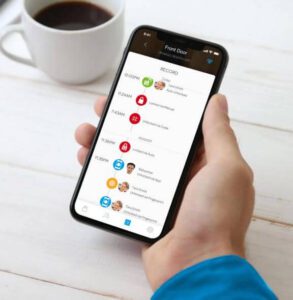 After installing, I connected to the lock in just a few seconds using U-tec's app, which is available for both iOS and Android. I found the app refreshingly easy to use, with clear-cut sections for adding users, checking activity logs, and modifying various settings. The lock, which is IP65-rated against dust and water, can withstand temperatures ranging from -22 to 149 degrees.
Ultraloq U-bolt pro wifi batteries
The U-Bolt Pro Wi-Fi is powered by four AA batteries, which U-tec claims can last between 3 to 6 months during normal usage. However, this wide range could be problematic if the batteries run out sooner than expected. It would have been beneficial if U-tec had designed the lock with a rechargeable and removable battery pack, as seen in some video doorbells.
In case the batteries do die before you can replace them, there is an emergency option available in the form of a micro-USB port located on the underside of the lock. Simply plug in any mobile charger to gain access, assuming you have one available.
The U-Bolt Pro comes in multiple models with different features.
WiFi model: Includes fingerprint scanner, open/closed door sensor, built-in Wi-Fi, and compatibility with Alexa and Google. Priced at $280.
Bluetooth model: Looks identical to the WiFi model but lacks an open/closed door sensor. Uses an external plug-in Wi-Fi bridge. Priced at $179.
Non-fingerprint scanner model: Excludes fingerprint scanner feature. Priced at $149
FAQs: Ultraloq U-bolt Pro Wifi
Is the Ultraloq U-bolt pro wifi secure?
According to the manufacturer, the U-Bolt Pro Wi-Fi smart lock uses a dual data encryption system consisting of 128-bit AES and Dynamic Key to ensuring exclusive access to the lock and its associated personal information. Nonetheless, the Ultraloq app does not include two-factor authentication, which is a useful security feature that notifies you of any unauthorized attempts to breach your account and protects your smart home. Unlike Ultraloq, companion apps for top-performing smart locks such as the Wyze Lock include this user safeguard.
Does Ultraloq U-Bolt Pro need WiFi?
No, the Ultraloq U-Bolt Pro smart lock does not require WiFi to function. The lock can be operated using Bluetooth connectivity with the Ultraloq app on your smartphone, and it also includes a physical key as a backup option. However, WiFi connectivity does offer additional features and benefits, such as remote control and monitoring of the lock, receiving notifications, and integrating with other smart home devices.
Does Ultraloq require a subscription?
No. The Ultraloq U-Bolt Pro smart lock does not require a subscription to function.
Related Articles :