The August smart locks always have been a great choice for a home smart lock and for good reason. The retrofit design makes them easy to install With no need to replace your existing deadbolt. It's smart enough to work with multiple smart home setups like Google Assistant, Apple HomeKit, and Amazon Alexa. Great app. Now, there's a new one on the scene. The August Wi-Fi Smart Lock; this new model comes with built-in Wi-Fi, So you don't need to buy an extra connect bundle — make it one of the best smart locks.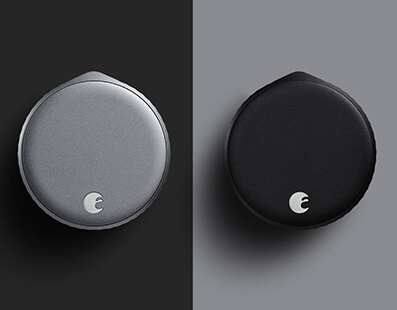 August Wi-Fi Smart Lock PROS and CONS
PROS:
Works with Amazon Alexa, Google Assistant, Siri, IFTTT, and more.
Smaller size
Lock and Unlock Automatically.
Easy to use and install.
Great app.
Sleek and Smaller design.
Wi-Fi built-in
Smoother mechanics
CONS:
Costly.
Short battery life.
Keypad sold separately
AUGUST WI-FI Smart Lock Features.
The new August Wi-Fi Smart Lock is the company's smallest model yet, and it's the first time it comes with Built-in Wi-Fi; Negating the need for the extra August Connect connect Wi-Fi bridge modules. It also supports Google Assistant, Amazon Alexa, Apple HomeKit, and many other third-party platforms and devices, Just like its predecessors.
The new smart lock is Costly (At $229.99) but it's in the same price range as the previous generation lock. But it is worth its price based on the great features it offers.
In
here are some great features :
Smart alerts: Notifies You when a person lock or unlock the door, or if it's left ajar
DoorSense: A small sensor you secure to your door frame, and tells the lock if your door is locked.
Auto-lock: August can automatically lock your door once it's shut, or after a specific number of minutes. You can also set the lock to emit a chime when it locks or unlocks.
Auto-unlock: This feature uses Wi-Fi or Bluetooth to sense when you leave your house, and turn the lock into Away mode. when you get home, August will automatically unlock the door for you once you're a few steps away, and turn into Home mode.
Guest access: August allows you to create temporary keys, that you can send to the Family, friends, or others to unlock the door via the August app. These keys can be set to only work during specific hours, or only work for a limited duration of time.
AUGUST WI-FI Smart Lock Design.
This August fourth-generation model has the same puck-shaped design as previous generations. What's noticeably different is the size. The August Wi-Fi Smart Lock is smaller than its predecessors by about 45 percent (Smart Lock Pro), The Lock is about 2.83 inches in diameter and 1.81 inches in depth. so it's much less bulbous than its predecessors.
The lock comes in two-colors silver or matte black and sports a textured grip around the outer edge and a detachable magnetic faceplate with a backlit August logo status indicator. To run it manually, Just turn the lock to the right (unlock) or to the right (lock).
The lock is powered by two CR123 batteries, which, under normal
circumstances, are only expected to run up to three months before You need to replace them, so be sure to lay in a good supply of backup batteries.
Installing the August Wi-Fi Smart Lock
Unlike other smart locks, the August Wi-Fi Smart Lock only requires you to replace the part of your deadbolt that's inside your home. which means you can still use the same keys that came with your existing deadbolt, but if you want a keypad — a feature that comes built into other smart locks — you'll have to buy it separately.
Anyway, the Installation of the lock and connecting it to my Wifi network and HomeKit won't take more than 15 minutes; it's all pretty quick and easy.
The video below shows how to install the lock :