Everyone has different levels of interest in home automation, but a smart lock like the Yale Assure Lock 2 can have a significant impact on upgrading your home. The latest offering from Yale is not only easy to install but also simple to use and compatible with all major smart home platforms, including the recently finalized Matter protocol. With its attractive design, available in a wide range of finishes and configurations, it's sure to blend in with your home's aesthetic. In addition, the Assure Lock 2 offers three key features that make it the ideal smart lock – an attractive design, multiple control options, and direct integration with your smart home without the need for a single-purpose Wi-Fi bridge

The Yale Assure Lock 2 comes in black suede, bronze, and satin nickel finishes and starts at $159.99 for a keypad or $179.99 for a touchscreen version. Both options can be keyed or key-free and include Bluetooth connectivity. Yale also sells modules for WiFi, Z-Wave, and Matter for smart home integration (with pre-installed WiFi starting at $240). The lock can be unlocked with a keypad, Yale app, Apple Watch, or Siri and has an auto-unlock feature using Bluetooth and phone location.
Yale Assure Lock 2: Yale smart lock Review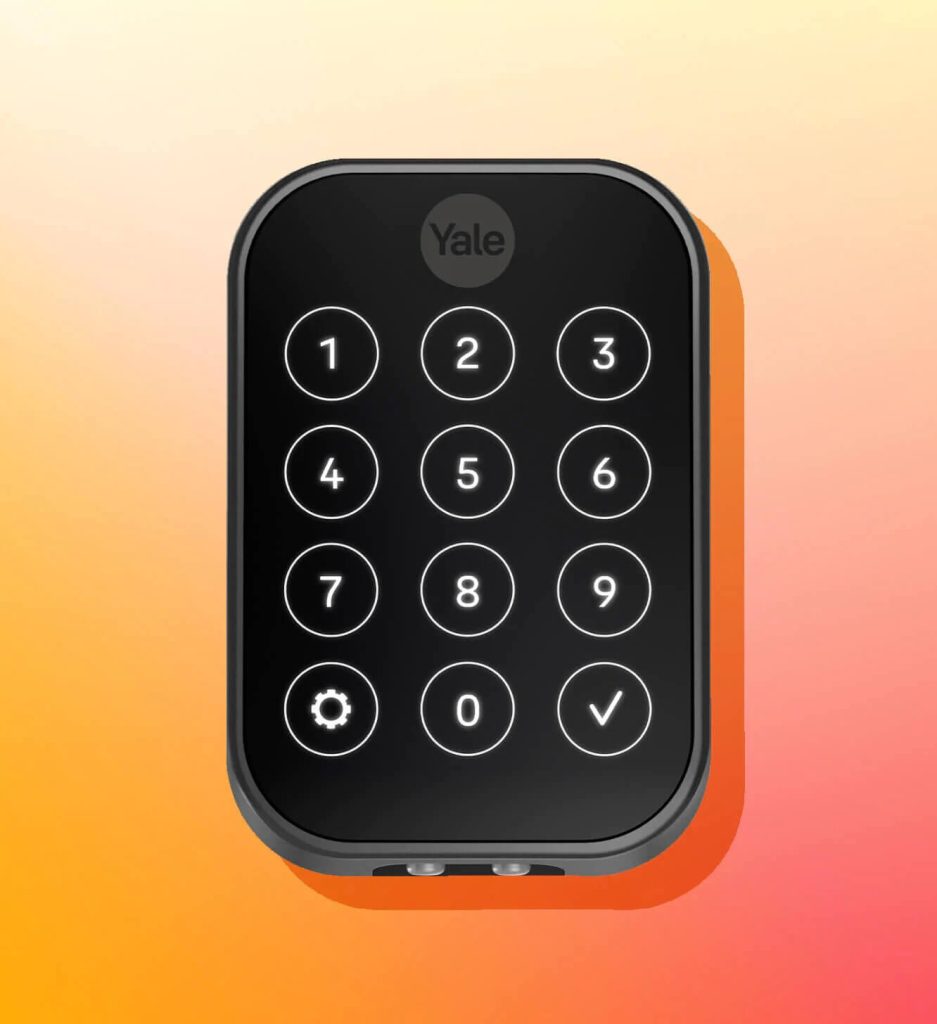 Pros of the Yale Assure Lock 2:
Sleek design
Touchscreen Display: The lock features a touchscreen display that is easy to use and provides a sleek and modern look to your door.
Easy Installation: The lock can be installed without any professional help and can be used with most standard doors.
Smart Home Compatibility: The lock can be integrated with smart home systems like Amazon Alexa and Google Assistant, allowing you to control the lock using voice commands.
Automatic unlocking
Well-designed companion app
Works with Apple Watch
Cons of the Yale Assure Lock 2:
Limited Battery Life With Short low-battery warning lead time
Cost: The Yale Assure Lock 2 can be more expensive than other locks on the market.
Touchscreen Display Issues: Some users have reported that the touchscreen display can be unresponsive or difficult to use.
Matter, Z-Wave, and Wi-Fi modules cost extra.
DoorSense device may require drilling
YALE ASSURE LOCK 2 SPECS:

Connectivity: Wi-Fi, Bluetooth, Z-Wave, RF Radio.
Integrations: Google Assistant, Alexa, Apple HomeKit.
Installation: Interior Escutcheon, Exterior Escutcheon.
Sleeker and Smarter: The Assure Lock 2 collection consists of four models, and up to 30% smaller than their predecessors
Yale smart lock installation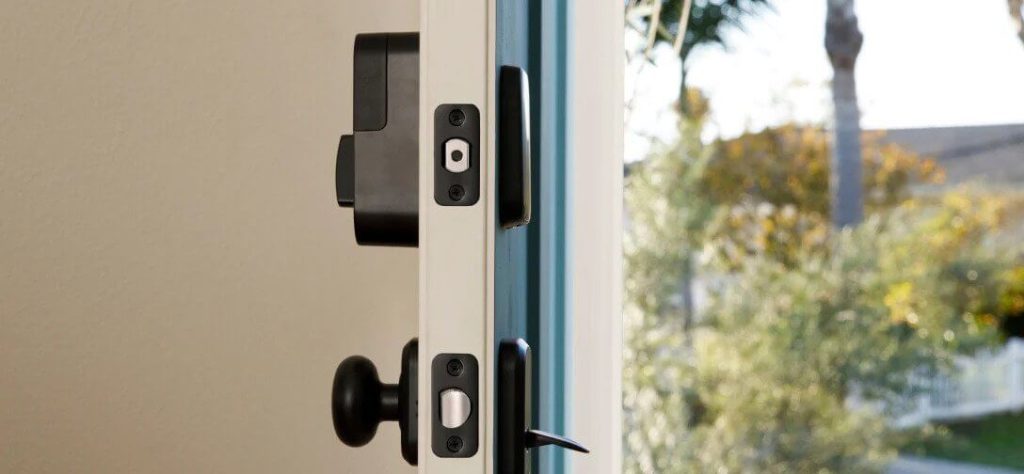 The idea of installing a deadbolt lock may seem daunting to some, however, there is nothing to worry about. The Assure Lock 2 by Yale is engineered to be compatible with the majority of doors used in the US and Canada, accommodating boreholes up to 2 ¾ inches in diameter and slabs up to 1 ¾ inches thick. The only equipment needed is a Phillips head screwdriver, making it a manageable task even for someone with limited handy skills like myself.

Here are the Assure Lock 2 installation steps :
Remove the old deadbolt
Use the installation manual or download the Yale Access app
Use the paper template to determine the size of your door and choose the appropriate screws
Install the deadbolt
Mount the DoorSense module
Choose to either stick it on the door frame using screws and double-sided tape — or hide it inside the frame using a ⅝-inch drill bit.

Guide To Installing Your Yale Assure Lock
Yale smart lock app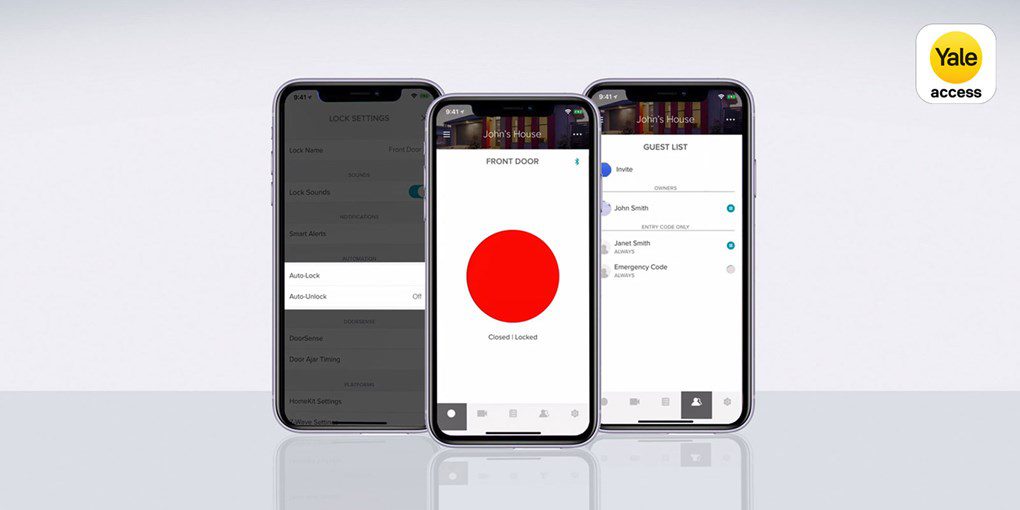 The Yale Access app is sleek and user-friendly. Its design is intuitive and it has all the necessary features.
You can lock or unlock the door either within Bluetooth range or Remotely using Wi-Fi (provided the Wi-Fi module is installed).
In the app, you can monitor the status of the door (a magnetic sensor on the door frame provides this information) and view a record of all door activity. This log details who opened the door, and how it was opened (manually, through the app, with a code, or via a smart home platform such as Apple Home), and you can set up smart alerts to be informed of these events.
You have the ability to add guests to the lock and grant them full app access or provide them with a code that can be used at specific times. There is no limit to the number of codes that can be issued, and I can revoke them at any time.
The Yale Assure Lock 2 Battery life

All models of the lock run on four AA batteries, which come included in the box. Yale estimates that Bluetooth-only locks should last between six and nine months.
PS: Yale locks with the added Wi-Fi module will last only 3 months.
Unfortunately, the battery level is not displayed in the app until it falls below 20%.
Questions you might ask!
What happens if Yale lock runs out of battery?
If a Yale smart lock runs out of battery, you may be unable to unlock or lock the door. However, most Yale smart locks have a backup method for unlocking the door in the event of a power failure or depleted battery.
For example, many Yale smart locks have a 9V battery backup for temporary power during power outages. Additionally, many Yale locks come with a physical key that can be used to manually unlock the door.
If your Yale smart lock runs out of battery, it is recommended to replace the batteries as soon as possible. Most Yale locks have a low battery warning that will alert you when the batteries are running low.
Is Yale Smart Lock secure?
As with any technology, smart locks are vulnerable to certain security threats and can be potentially hacked. However, the risk of hacking can be mitigated through proper implementation and use of security measures.
For optimal security, use strong and unique passwords with your Yale Smart Lock, regularly update its firmware, and avoid easily guessable information as passwords. Proper installation and usage, as well as avoiding third-party accessories, can also help minimize security risks.
In conclusion, while Yale Smart Locks offer a high level of security, it is important to consider the security risks and take appropriate measures to protect your home and personal information.
How long does Yale Smart Lock last?
The battery life is dependent on the number of turns per locking, and the number of openings per day. Based on normal usage, the batteries will last between 6 to 9 months.
Bottom line: Yale smart lock review

The Yale Assure Lock 2 is a stylish and smart deadbolt that really covers all the bases. You get four different configurations and finishes to choose from. Additionally, it integrates with a wide range of popular third-party smart home systems.
Related