Living in a small home can make it challenging to have the same conveniences and comforts as those in larger homes, such as a dining table. However, the desire to share meals and have dinner guests around a table is still possible even in limited space. The market offers a variety of dining tables specifically designed for tiny homes and apartments, allowing you to make the most of your space without sacrificing comfort.

To find the best small dining tables, we spent hours researching the various models on the market to determine the best options, considering factors like style, shape, footprint, and even material. To find the perfect extendable dining table for you check out these stylish extendable dining tables for small spaces below.

Junior Giant – Extending Table Transformer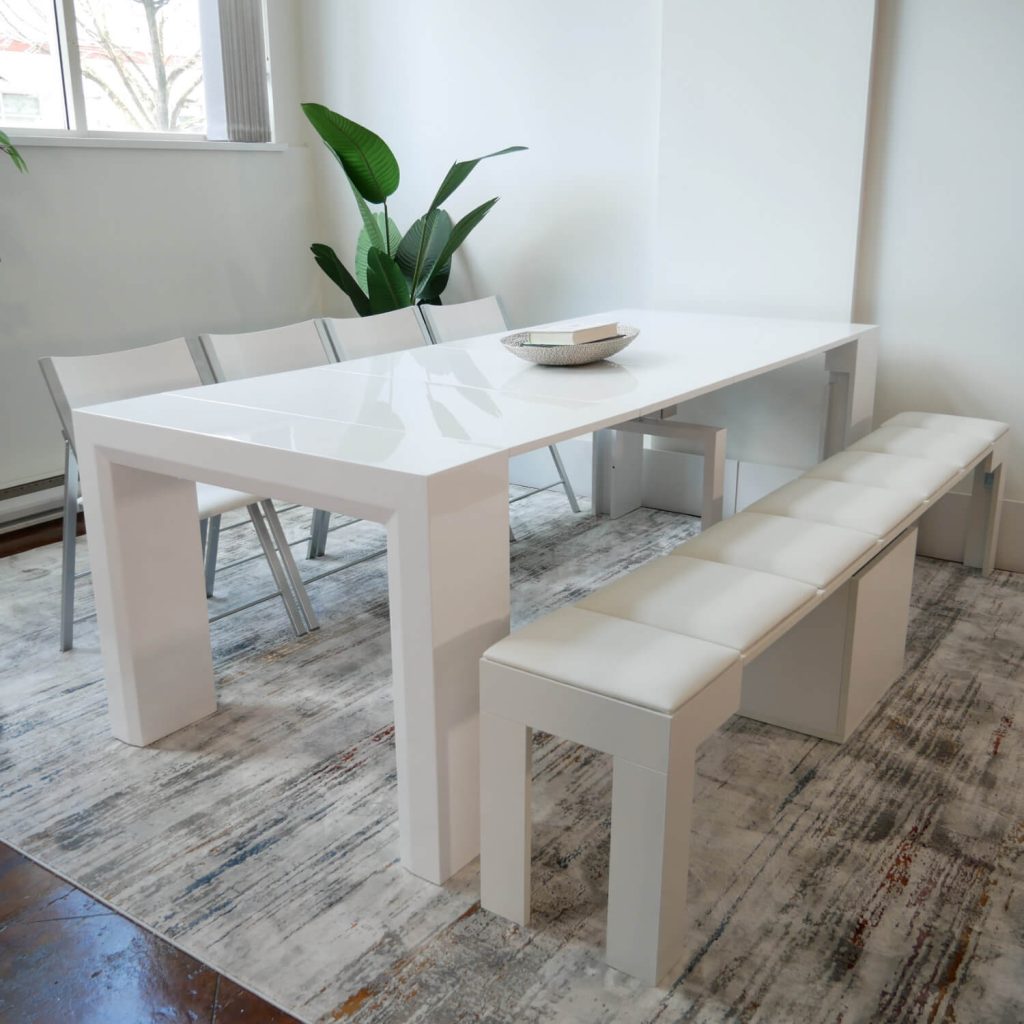 The Transformer Table is a trendsetting piece of furniture, offering a 6-in-1 extendable dining room table that fits all your needs. With its ability to transform from seating 2 to 12 people, it's quickly becoming one of the hottest home design trends. Made of genuine hardwood in a range of attractive finishes and coated in heat- and water-resistant ceramic lacquer, it's a top pick for extendable dining room tables.
The Junior Giant Console Transforming Table boasts a revolutionary, expandable design. With Five extensions that feature built-in magnets and a revolving support leg, it can be built to size – from a compact console to a 12-person dinner table. Despite its adjustability, the Junior Giant is incredibly sturdy and can support abundant feasts. Its ultra-compact leaves ensure easy storage. Finished in glossy paint, and wood veneer as well as new panel versions with a slightly different face design.
Gateleg Dining Tables For Small Spaces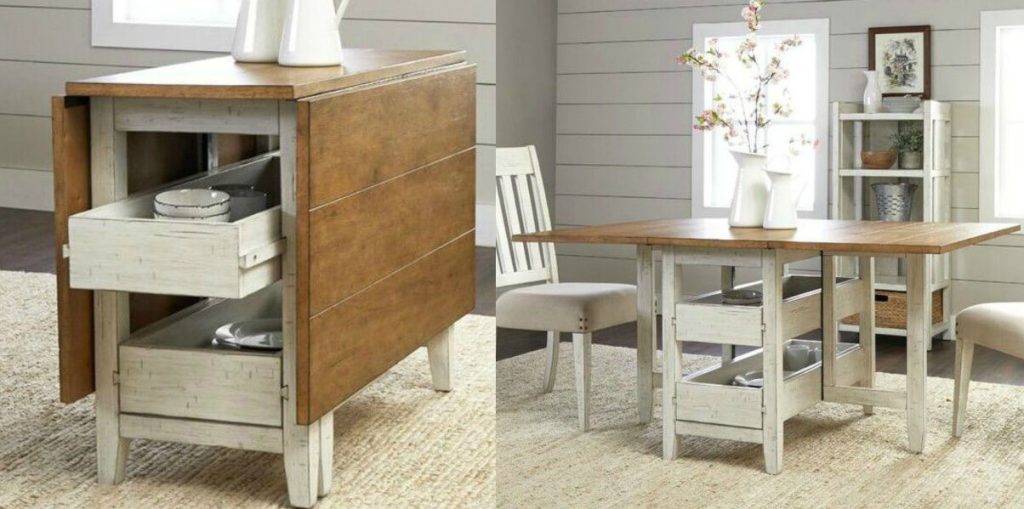 Whether you need a dining table for hosting friends and family, extra storage, or a place to study, This piece of furniture will deliver. Its three functions make it suitable for all your requirements. When not in use, it can be conveniently stored in a corner of your kitchen or living room.
Wall-Mounted Foldable Dining Table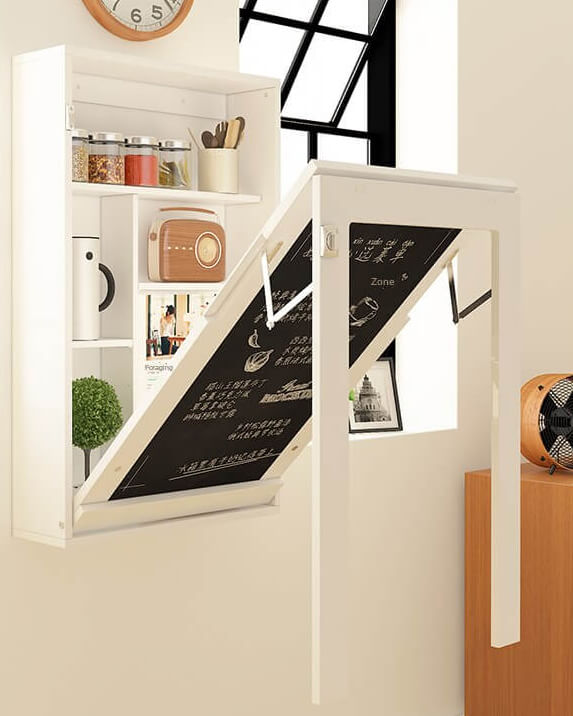 A wall-mounted table is highly convenient, taking up space only when in use. Ideal for small homes with limited room. The table can fit two people when folded down and appears as a piece of white artwork when attached to the wall. Simply add dining chairs to complete the setup.
Vixen Compact Cube Dining table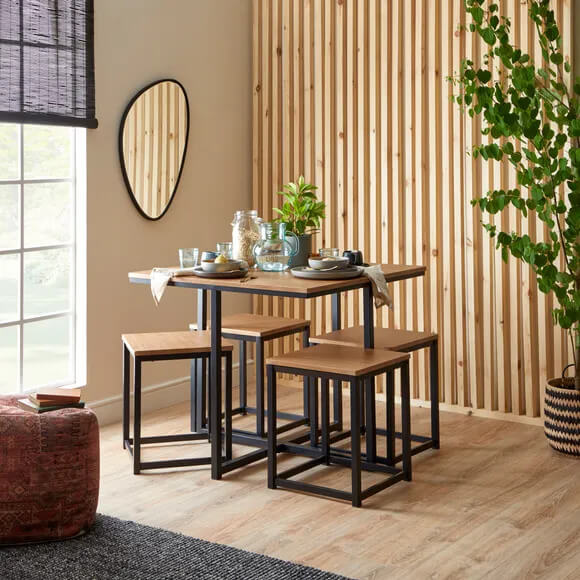 This oak and black compact table and stool set is perfect for adding extra dining space to your kitchen. It's a space-saver due to its design, where the seats can easily fit under the table as cubes.
ASTOR TABLE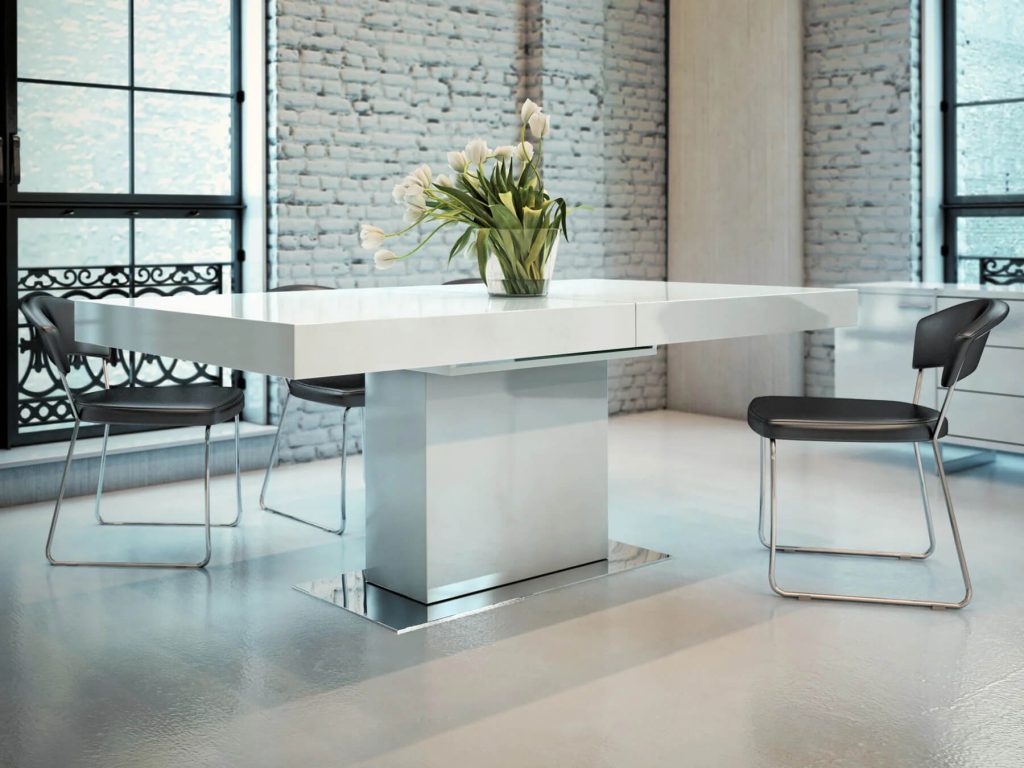 The Modern Modloft Modern Astor Table can fit 8 people at its 71″ size, and with the use of a hidden center leaf, it expands to a 94″ size to seat 10 people comfortably (12 in tight situations). The German-made smooth-glide mechanism ensures seamless tabletop extension and perfect alignment. So, you can easily accommodate extra guests without compromising on space when not entertaining.
This versatile table offers a range of finishes to fit any home decor, including glossy gray, glossy white, gray oak, smoked oak, and walnut. It boasts a modern and attractive design, with a weighted chromed steel base balancing the 40″ wide tabletop. The result is a subtle yet striking accent piece for any room.
West Elm Box Frame Drop Leaf Expandable Table
Drop-leaf tables are considered to be a more modular type of expandable table, as they offer greater versatility in terms of the amount of expansion needed.
The West Elm Box Frame Drop-Leaf Expandable Table can fit six people around it when it's fully extended. When not in use, the sides can be folded down to make the table perfectly compact.
Badillo 5-Piece Compact Dining  Set With Storage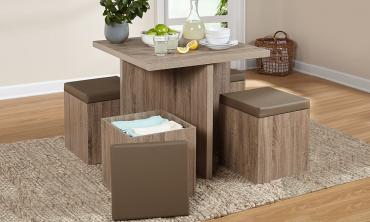 Say goodbye to limited space for family dinners with this five-piece dining table set. Its compact design allows for efficient use of space. The four cushioned stools fit neatly under the table, freeing up room in your home. Additionally, the stools reveal hidden storage space for linens, blankets, pillows, and more. No matter how small your home is, this practical dining table solution will make room for quality family time.

PHI VILLA Black Outdoor Expandable Dining Table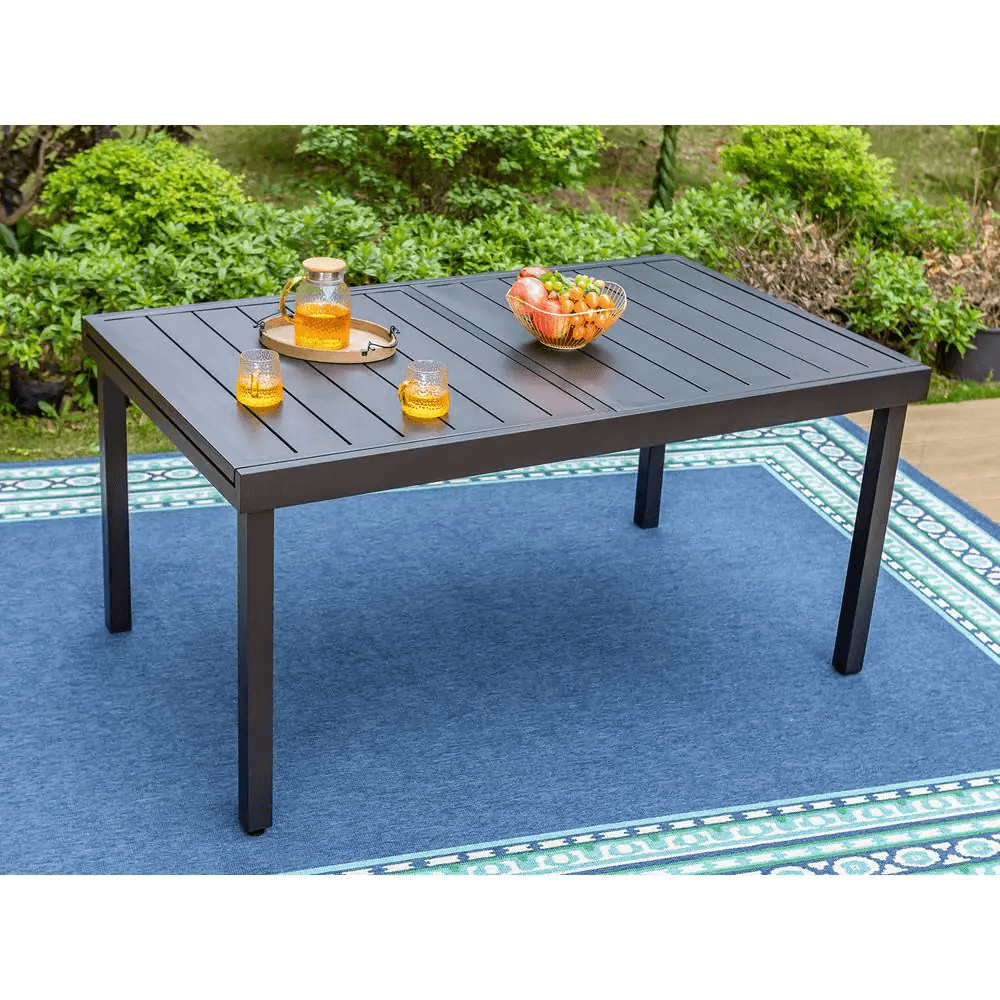 One more option for an extendable outdoor dining table is the metal slat table. Made with durable, rust-resistant powder-coated steel, it is a strong and long-lasting patio table that also exudes elegance. With a built-in extension, it can comfortably seat up to eight diners. The set can also be purchased as a patio bistro set on Amazon, complete with six high-back dining chairs.
Expert Tips for Shopping for Dining Tables For Small Spaces
Here are some expert tips for shopping for extendable dining tables for Small Spaces:
Measure your space: Make sure to measure the area where you plan to place the table, taking into account the space needed for chairs and other furniture.
Determine the size you need: Consider how many people you want to seat and how often you entertain guests. This will help you determine the size you need, both when extended and when closed.
Consider the mechanism: Look for a table with a smooth and reliable mechanism for extending the tabletop. A table with a leaf that is stored separately may not be as convenient as one with a built-in leaf.
Pay attention to material and finish: Choose a material and finish that fits your style and complements your home decor. Make sure to consider durability and ease of cleaning.
Check for stability: Make sure the table has a stable base and is well-constructed, to prevent it from wobbling or collapsing.
Consider budget: Set a budget for your table and stick to it, but also keep in mind that quality and durability are worth investing in.