If you looking for the best smart lock for your home, you are in the right place. Here you'll find the best smart door locks based on our tests.
A smart lock is probably the most important part of a really smart connected home.
With a smart lock at your home door, you can manage who is leaving and entering your home while you're away with an easy voice command or by using your phone to unlock and lock your home doors, offering you convenience, security, automation, and peace of mind. But which the best smart lock option is right for your doors?
Here are a few things to keep in mind to consider when deciding on a smart door lock, along with reviews of the best models we've tested.
In this article, we gonna review the Best smart locks 2023.
---
August Wi-Fi Smart Lock
Best Smart Lock Overall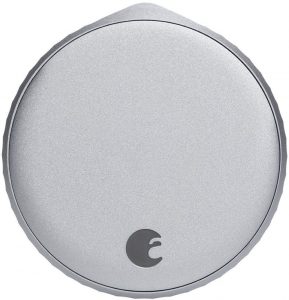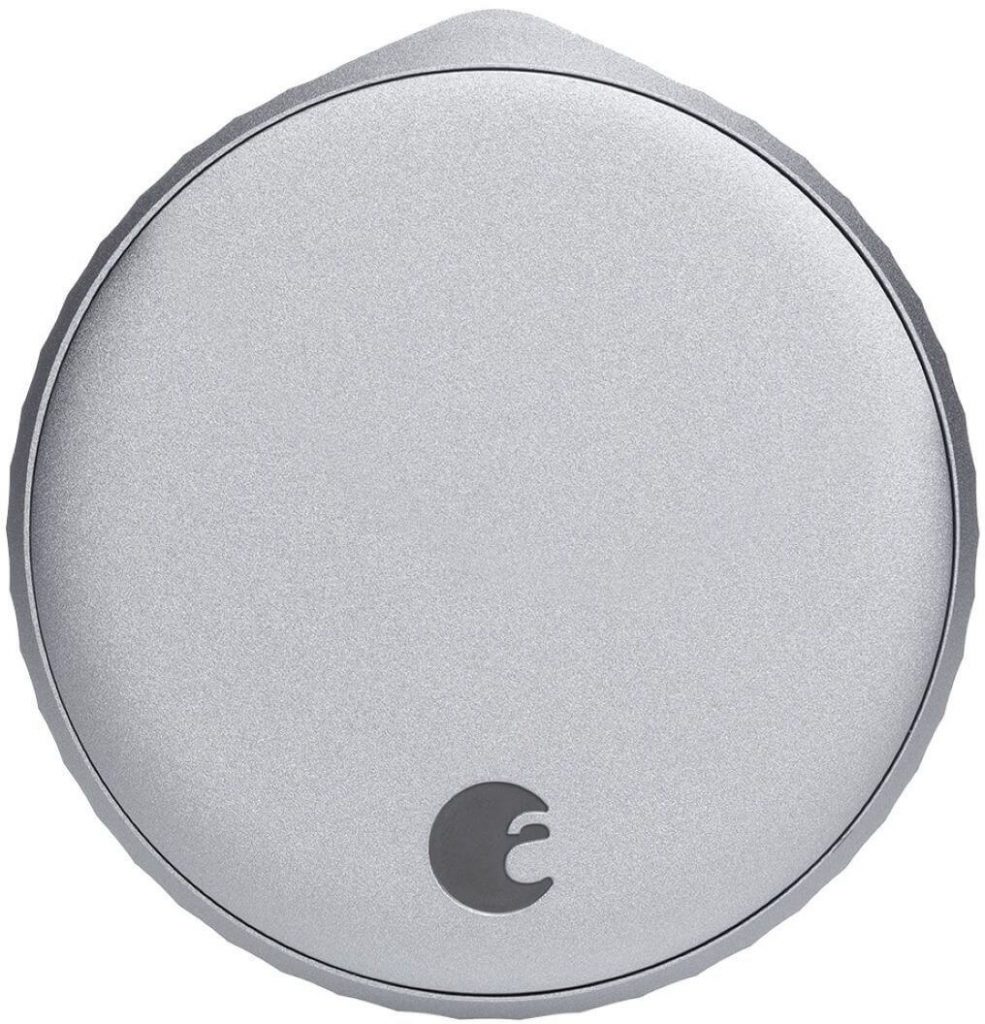 ---
PROS:
Easy to install and Easier to use.
Smaller size
Built-in tamper alarm
Wi-Fi built-in
Works with lots of smart home devices like Siri and Alexa and more.
Nicely designed app.
CONS:
Keypad sold separately
It doesn't offer a fingerprint scanner
The August Wi-Fi Smart Lock comes with a DoorSense open-close sensor and retrofit August lock .and now has Wi-Fi built-in on this smart door lock model, so you won't need to buy an $80 Connect module to link your lock to your home network.
The August Wi-Fi Smart Lock is also 45 percent smaller than its predecessor August models. This smart device works with Alexa, Siri, and Google Assistant for smart home integration and voice control. You'll get keyless entry codes unlimited user access, as well as a log of every action that happens at your front door.
Wi-Fi enables remote access to lock and unlock your door from your iOS or Android devices when you're away from home. The August Wi-Fi Smart Lock is capable, smaller, and easier to use.
Read our August Wi-Fi Smart Lock full review.
---
Yale Assure Lock 2
Top-rated Smart lock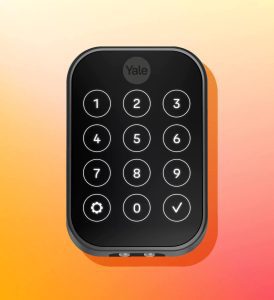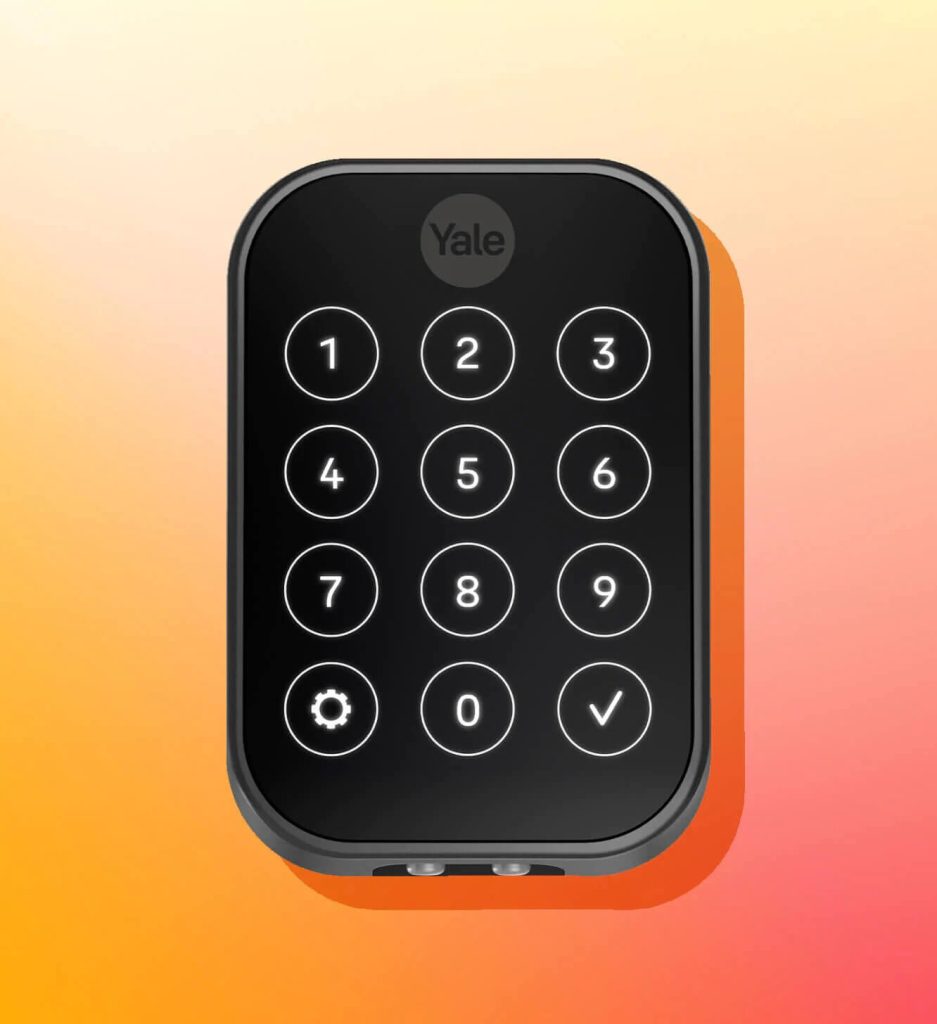 PROS:
Sleek design
Support for Google Home, Amazon Alexa, and Apple HomeKit.
Compatible
CONS:
Activating the lock requires tapping the Yale logo
The Yale Assure Lock 2 is a versatile smart lock that offers a sleek and modular design, allowing users to purchase only the features they need and upgrade as desired. Installation is straightforward, and it's simple to use and share access to your home.
With support for multiple smart home standards, including HomeKit, Alexa, Google Home, and SmartThings, the Yale Assure Lock 2 is one of the best smart locks on the market. However, if you want to switch from Bluetooth to another protocol like Wi-Fi or Zigbee, you'll need to swap out an internal module.
This smart lock does not have a manual key option; instead, it requires a keycode or app for entry, with an unlimited number of possible codes. If the battery runs low, you can give it a temporary boost by touching a 9v battery to two contacts beneath the keypad.
Our main criticism is that you must press the Yale logo before entering the keycode, which is an extra step that may confuse visitors. Additionally, there is no option for a brass finish, but this is a minor concern.
Read our Yale Assure Lock 2 full review.
---
Wyze Lock Bolt:
Best Budget Smart Lock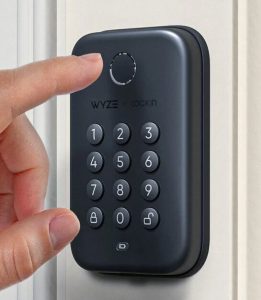 PROS:
Affordable price compared to more expensive models like the Yale Assure Lock 2 or the Schlage Encode Plus
Provides most of the essential features including guest access, temporary codes, auto lock, and lock history
Stylish design that enhances the aesthetics of your home
Easy installation process
Multiple unlocking options: fingerprint, keypad, and mobile app
Battery life is expected to last about a year and there is a fail-safe method in case of low
Flawless performance throughout our evaluation
CONS:
Bluetooth only, no Wi-Fi connectivity
Lacks some of the advanced features found in more expensive locks with Wi-Fi connectivity, such as remote access
Does not integrate with Alexa or Google for voice control
No geofencing for auto-unlocking
Cannot determine if the door is open or closed, which may result in the lock engaging while the door is open
No physical key
No voice control support
The Wyze Lock Bolt ($69.99) is the best value lock we tested for an affordable keyless entry solution. This Bluetooth-only lock offers multiple unlocking options such as using the app, punching in a code on the backlit keypad, or using the reliable onboard fingerprint reader – all exceptional features at this price point. Notably, the ability to establish temporary PIN codes remotely and the onboard fingerprint reader are standout features.
However, as a Bluetooth-only device, it cannot be integrated into a wider smart home system. This means it lacks geofencing support for automatic locking when you leave, voice command control through Alexa or Google Assistant, or the ability to program the lock to turn on your smart lights when you unlock the door. Nonetheless, the Wyze Lock Bolt remains an excellent value for its price
Read our Wyze Lock Bolt full review.
---
Ultraloq u-bolt pro wifi smart deadbolt lock
Best smart lock for Airbnbs and rentals
PROS:
Includes a fingerprint reader for added security
Supports voice commands
Works with lots of third-party devices
Built-in WiFi for easy remote access.
Multiple Entry Options
CONS:
Doesn't support Apple HomeKit
Expensive
The Ultraloq U-Bolt Pro Wi-Fi boasts a backlit numeric keypad, fingerprint scanner, and additional appealing features such as built-in Wi-Fi, temporary guest access, and automatic lock/unlock with a door sensor. However, we experienced some problems with the fingerprint scanner's reliability, and although it supports Google and Alexa, it does not provide assistance for Apple HomeKit.
Compared to the Yale and Schlage locks we tested, we found the installation and setup process of the Ultraloq U-Bolt Pro Wi-Fi to be more challenging, and the app instructions weren't as clear as some of the other locks. Its design is conspicuous and reveals the presence of a smart lock, and the backlit keys are hard to see in low-light conditions, necessitating punching in a number to illuminate the keypad.
In conclusion: The U-Bolt Pro Wi-Fi from Ultraloq is a reliable and solid smart lock that provides multiple ways of unlocking your door, including voice commands through Alexa and Google. Nevertheless, considering the cost, we believe that the Yale Assure Lock 2 offers superior value.
Read our Ultraloq u-bolt pro wifi full review.
---
Bosma Aegis Smart Door Lock
PROS :
It has excellent reliability.
Its geofencing features worked perfectly in testing.
Despite its quality, it is surprisingly affordable.
It is easy to install.
It supports voice commands, which makes it convenient to use.
It is compatible with lots of third-party devices, which enhances its versatility.
CONS:
It is a bit large and bulky, which may make it less convenient to handle.
It requires a hub, which may increase its setup complexity and cost.
It doesn't support HomeKit, which may be disappointing for Apple users.
The Bosma Aegis retrofit smart lock priced at $119.99 earns high marks in our tests with an Excellent rating for remote access. It offers numerous features, including auto-locking, auto-unlocking, voice control via Amazon Alexa and Google Assistant, electronic keys, an access log, a door open/close sensor, and a tamper alarm to alert you of potential break-ins.
Installation is simple, and the device works quietly while supporting other smart devices via IFTTT. However, it requires a hub (included), and a wireless keypad with fingerprint scanning comes at an extra cost. Despite not having a sleek appearance, the Aegis provides considerable value.
---
Schlage Sense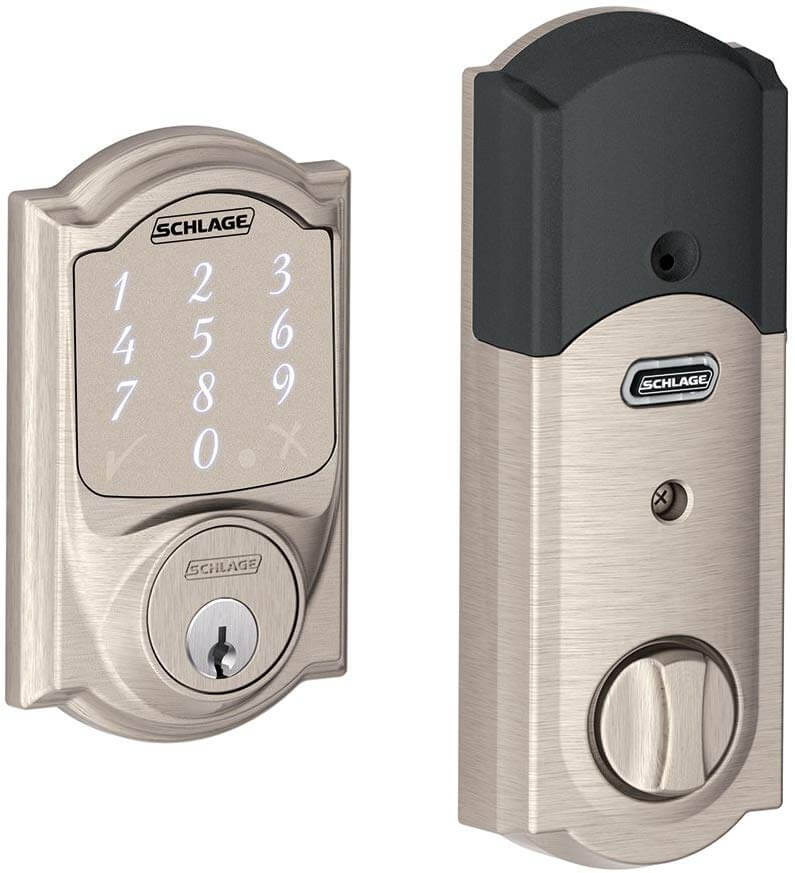 Pros:
Easy to install.
Nicely designed app.
Siri voice control.
Built-in tamper alarm
Cons:
Costly.
It only works with iOS devices.
Requires Apple TV for remote control.
In conclusion: The Schlage Sense Smart Deadbolt lock allows you to use your iPhone to lock and unlock your doors, program access codes, and set up access schedules.
August Smart Lock Pro + Connect
Best smart lock for apartments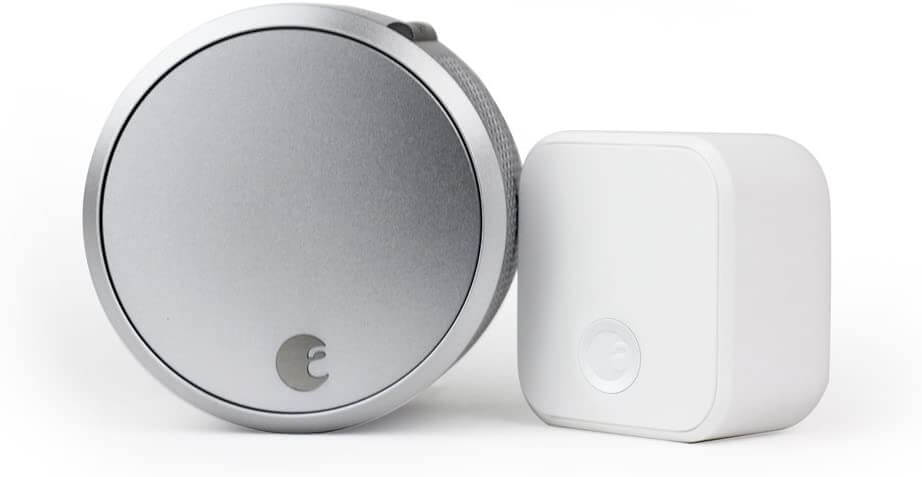 The August Smart Lock Pro and Connect bundle contains a retrofit August Smart Lock Pro, a Connect Wi-Fi module, and a DoorSense open-close sensor.

Pros:
Easy to install, Works with most standard deadbolts
Voice activation feature.
Sleek design.
Geofencing and IFTTT support.
Cons:
Costly.
Requires extra components to control the lock remotely.
In conclusion: as well as Door Sense technology, you'll know your door is fully closed and locked. It'll even lock itself when you leave your house. Works with Apple HomeKit and Z-wave wireless home control technology, Alexa, Google Assistant, The Wink Hub, and Samsung's SmartThings.

Yale Assure Lock SL
Best keyless smart lock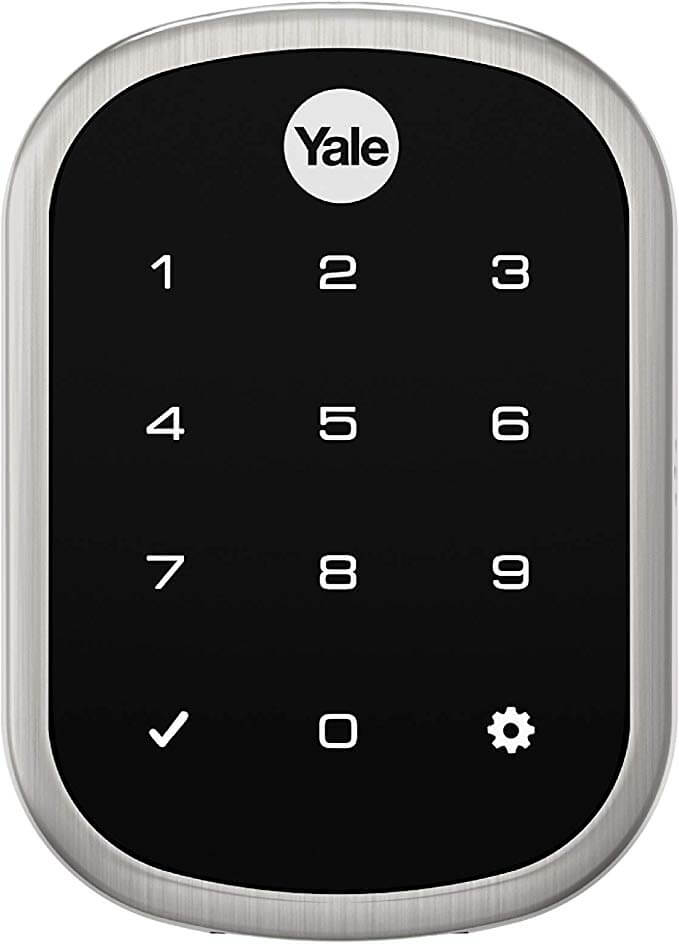 Pros:
Sleek design.
Easy to install.
Very quiet.
Works with Nest Secure
Cons:
It doesn't work with IFTTT.
No voice activation support.
In conclusion: The Yale Assure Lock SL is an amazing keyless touch-screen deadbolt lock, has a small, sleek design, easy to install, and can be controlled remotely, but it requires a Z-Wave home automation hub to do so. this keyless lock works with Amazon Alexa, HomeKit, and Google Assistant.
Best smart lock for apartments
August Smart Lock and Connect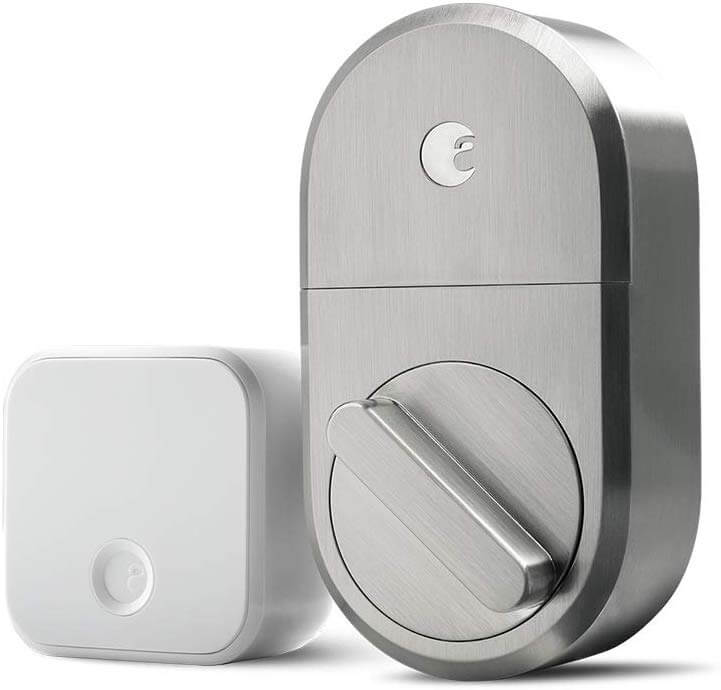 August's Smart Lock and Connect bundle comes with a DoorSense lock /unlock sensor and Connect Wi-Fi module.
The low profile, retrofit design means you won't need to replace your deadbolt and installation is so easy, offering convenience for renters.
The August Smart Lock with the Connect setup works with Amazon Alexa and Google Assistant and is controllable remotely from the August mobile app from anywhere.
You won't get Z-Wave smarts or Apple HomeKit compatibility to connect to a smart hub.
Still, this August Smart Lock is a moderately priced, capable smart door lock for keyless access, and tracking who comes and goes It's the best smart lock if you live in an apartment.
Kwikset SmartCode 888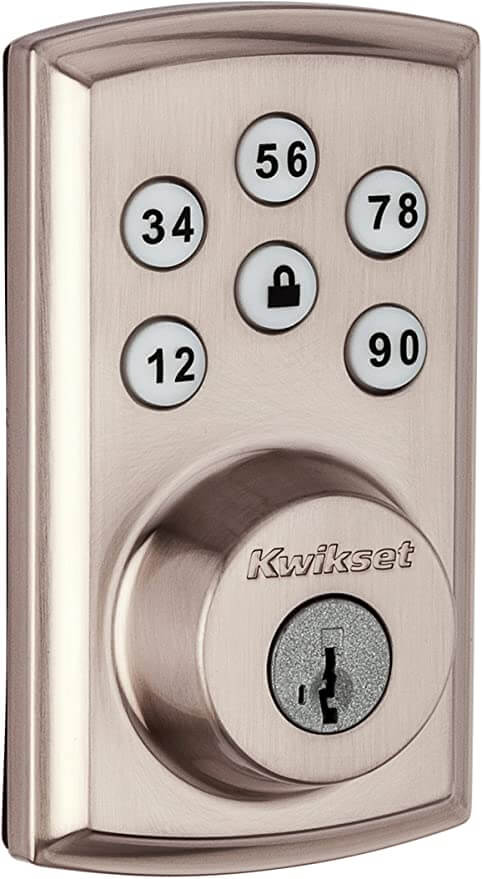 Pros:
Simple to install;
Incredibly simple to setup automation scenes
Easily re-key to use existing keys
Sleek metal design
Cons:
Requires Hub (sold independently ) for any remote access features or automation
Schlage Encode Smart Wi-Fi Deadbolt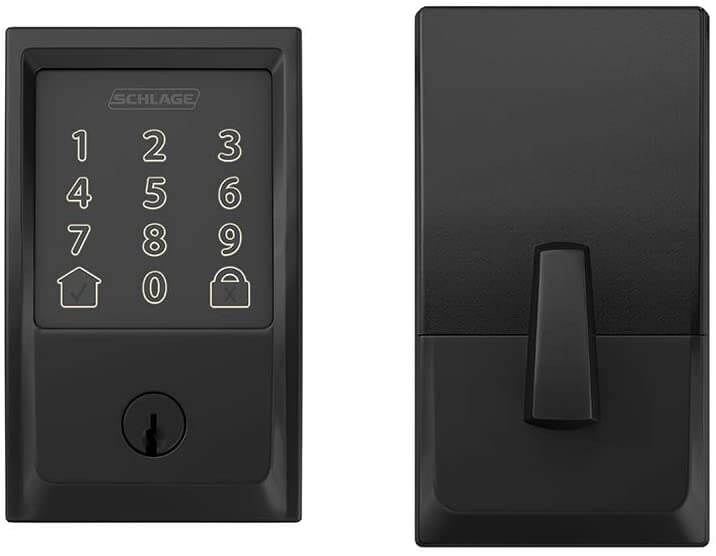 Pros:
Built-in Wi-Fi and That allows you to lock/unlock from anywhere no additional accessories required that means no need for Z-wave devices or a Zigbee hub or Wi-Fi module to connect this door lock to your smart home.
Works with Google Assistant Amazon Alexa with simple account linking through their apps.
Appropriate with Amazon Key providing convenience for in-home delivery services.
The sleek keypad design is available in both traditional and modern styles and multiple finishes.
Cons:
No HomeKit compatibility.
limited to 100 user codes.
Wyze Lock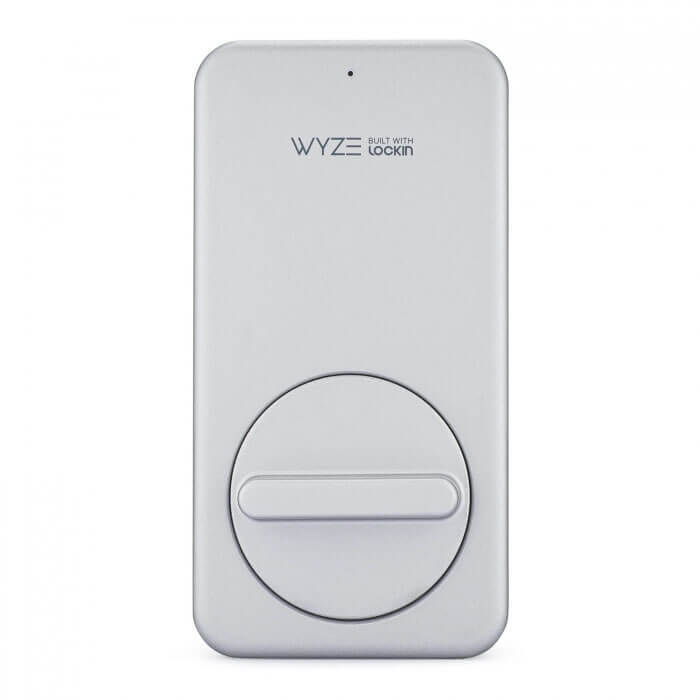 Pros :
The Reasonable Price: The Wyze Lock price is less than $100 In the market. while similarly featured locks commonly cost up to $200 or more, that's a serious deal.
Easy to set up and use: The Wyze Lock is a retrofit lock like The Friday smart lock and August, That means you don't have to replace the exterior portion of your door's lock technique. Just use your existing hardware to connect the interior escutcheon to your door and use the mobile app (or the original key) to open/close the lock from outside.
Cons:
The design isn't catchy, and the material seems plasticky and a bit cheap, not characteristics one often appreciates in the lock.
Lockly Secure Plus
Pros:
Fingerprint scanner
Quiet operation
keyed access and keypad
Pin Genie anti-theft
Easy setup.
Cons:
Doesn't work with other smart devices
Lacks remote access.
No IFTTT, HomeKit, or voice command support.
in conclusion: The Lockly Secure Plus is a Bluetooth Keyless Entry Smart Door Lock that allows you multiple methods of entry, including a fingerprint scanner.
Kwikset premis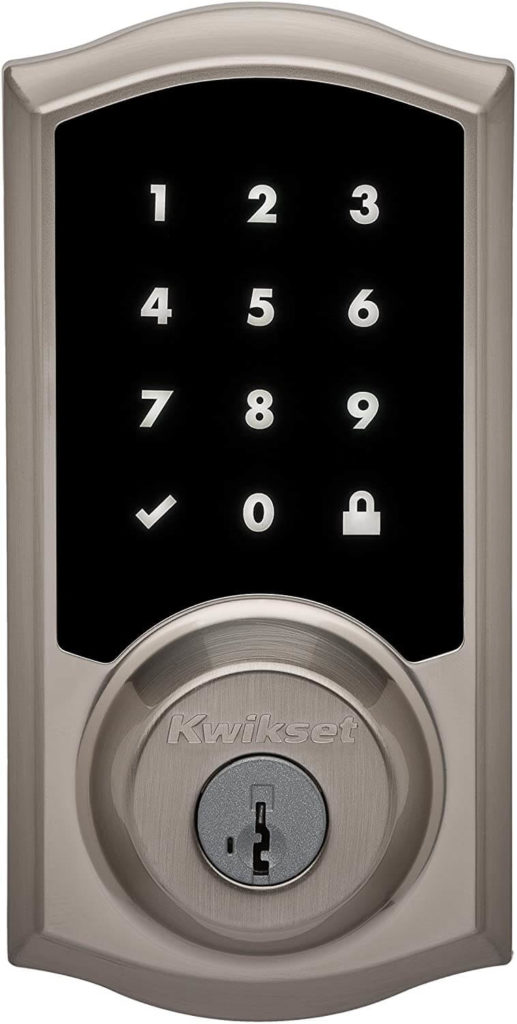 The Kwikset Premis Is very similar to the Schlage Sense, which also offers a keyed entry, touchscreen keypad, and HomeKit compatibility. Even without an Apple Tv, you can use Siri to tell the Premis to unlock and lock; this all gets set up during the former installation. The app is streamlined and simple, though that comes at the expense of more advanced features, like the ability to set individual access schedules and geofencing. The Kwikset Premis feels a touch less strong than the beefy Schlage Sense, but if a less obtrusive (and a bit more simplistic) lock is more to your style, it's a no-brainer.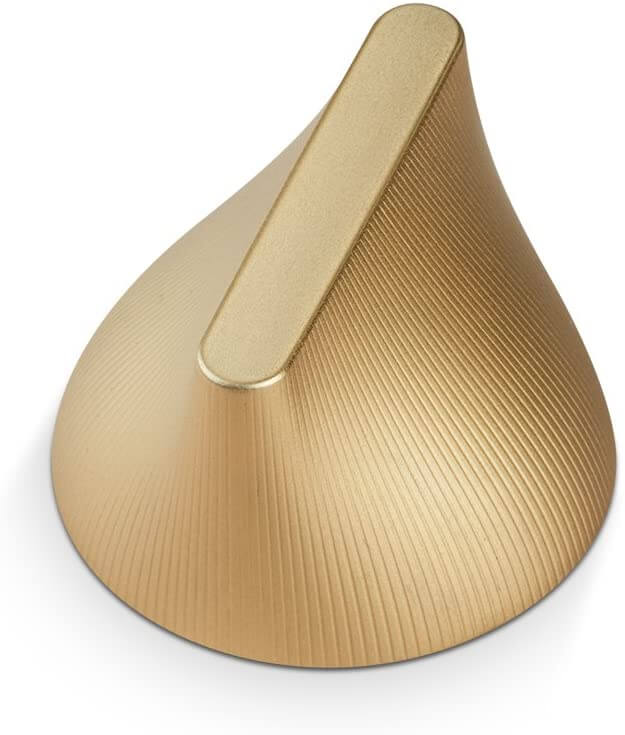 Friday Lock
Pros:
HomeKit enabled
Small form factor
Uses existing lock hardware
Cons:
Finicky installation.
Limited access scheduling options.
Occasionally lost connection in testing
In conclusion: The Friday Lock allows you to open and close your doors using Siri voice commands or with a phone app, but we had some problems with connectivity in our testing.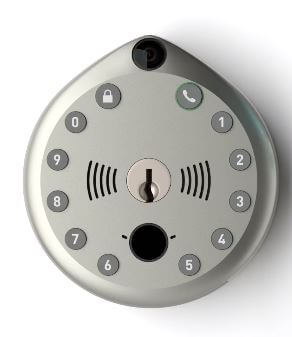 Pros:
Built-in camera.
Keyed and keyless operation
Two-way audio.
Extremely quiet. Easy to install.
Cons:
costly
Some features require a subscription
Doesn't interact with third-party smart devices
No geofencing or night vision
Can't lock the door from within the app unless a motion is detected.
In conclusion: The Gate Smart Lock is a Wi-Fi smart door lock with a built-in camera that records video when someone approaches your door.
---
What to look for when buying a smart lock?
There are a few factors to keep in mind before buying a smart door lock.
Connectivity
Consider the type of connectivity options available, such as Bluetooth, Wi-Fi, or Z-Wave. You'll want to choose a lock with a strong and reliable connection to ensure that it works properly.
Security
Look for a smart lock with strong security features, such as encryption, two-factor authentication, and tamper detection.
Smart home compatibility
The smart locks work with different smart home devices like Google Assistant, Alexa, and Siri. A better lock should be able to work with them all. So, as an example, if you say "Hey Google", Goodnight," Google Assistant will lock your doors and turn off your lights automatically. also, You can Connect a home security system to your lock, so that they'll lock Your door when you leave the house automatically.
The Smart lock Type
There are two types of smart door locks: deadbolt and lever-style. The first one is designed to replace your existing deadbolt, and the second has the door-opening lever and the lock-in one.
The Smart lock Design
The smart lock should match your home decor.
Power source:
Check whether the smart lock is battery-operated or requires a wired power source. Battery-operated locks are more convenient, but you'll need to replace the batteries regularly.
Emergency access features
If you're wondering what could happen if your smart lock's battery runs out, don't fret too much. Although it's a concern that new and potential users often have, it's highly unlikely to occur. Our tests have shown that most of the locks we evaluated provided us with adequate notice of low battery status. Whether through an alert on the app or a flashing LED on the lock itself, we were alerted in good time.
Moreover, the premium locks we examined went a step further by offering convenient solutions to this potential issue. For instance, some of them came with a 9V battery terminal or a USB-C port that you can use to recharge the lock quickly. This feature comes in handy if you arrive home to find the lockout of power, providing you with the peace of mind that you can easily restore the lock's functionality.
The entry features
A Best Smart Lock Offers Offer one or more ways of entry, so it's up to you to choose what you prefer.
Keys: Just like a traditional lock, some smart door locks have a traditional keyhole. even more, some can be re-keyed, to make it easier to transition.
Keypads: The most popular entry means; most smart locks will allow you to create and manage many keycodes.
Fingerprint reader: Just like Smartphones some smart locks have fingerprint readers, so you no longer need to remember a code or carry your keys; just press your finger against the reader to be able to enter.
Virtual keys: This lets you give a virtual code to people, who can use the smart door lock app on their phone to unlock your door. You can manage these codes.
---
How do we test smart locks?
To test a smart lock:
First, we must install it on our doors and see How Well it works. the first thing we see is how easy the installation of the lock is. Must be easy for everyone to install it. Most smart door locks currently require a Wi-Fi bridge in order to manage them remotely, so this adds an additional layer to the setup process.
Then, we see how well the lock works in daily operation. Can we use it as easily as a traditional door lock? How easy is the app? What features does it offer? The best smart locks will allow you to create several temporary "keys," which you can give to people you trust to open your door. Preferably, you should be able to schedule when these keys will work.
We also look to see the compatibility of the smart door lock with other smart home devices. At least it should work with Siri, and/or Google Assistant so that you can not only lock your door by voice. Even better is when a smart lock can work with security systems and smart lights, to create a fully automated smart home.
---
FAQs: Best Smart locks
Is it a good idea to get a smart lock?
Smart locks can offer benefits such as convenience and increased security, but they also come with potential drawbacks such as compatibility issues and the risk of hacking. It is important to do thorough research and consider factors such as cost, reliability, and ease of use before making a decision. Ultimately, the decision to get a smart lock should be based on an evaluation of your individual circumstances and priorities.
What Is a Smart Door Lock?
Smart locks are a new generation of home security devices that leverage Bluetooth or Wi-Fi technology to provide keyless access control. These devices enable you to lock and unlock doors with a simple tap or voice command, eliminating the need for traditional keys. What's more; smart locks also offer remote access, allowing you to grant entry to guests or visitors even when you're not physically present. For instance, if you have an Airbnb rental, you can remotely open the door for your guests from your smartphone or tablet.
How secure are smart locks?
When it comes to security, smart locks from renowned majors such as Yale and Schlage are reliable devices. However, their reliability hinges on how well they are utilized. For instance, a smart lock with a predictable PIN like 1234 is unlikely to offer adequate protection. In fact, smart locks can be more secure than traditional locks, particularly when using biometric features like fingerprint recognition, as these are less prone to lose or theft compared to keys.
Can smart door locks be hacked?
Like any technology, smart door locks are not completely immune to hacking attempts. However, with the right security measures in place, the risk of your smart lock being hacked is relatively low.