If you want a smart lock that doesn't look like a smart lock, the Level Lock Plus is an obvious choice, especially if your smart home already runs on Apple Home.
The Level Lock Plus is the ultimate combination of style, practicality, and advanced features. At first glance, it may resemble an ordinary lock, but hidden within its compact design is cutting-edge technology that revolutionizes home security. Astoundingly, all the mechanical components, including the battery, are ingeniously packed into the same tiny space as a manual lock's bolt mechanism.
Furthermore, the Level Lock is at the forefront of innovation by incorporating support for Apple's groundbreaking home keys feature. This allows iPhone and Apple Watch users to effortlessly unlock the door without even needing to open the Level mobile app. During my tests, this lock performed flawlessly and proved to be incredibly user-friendly.
Experience the perfect blend of style, convenience, and reliability with the Level Lock. Say goodbye to traditional locks and embrace the future of home security with this exceptional device.
Pros:
Stylish smart lock with an outstanding design.
Fits completely inside the door
Apple Home Key provides a simple and dependable door-unlocking solution.
Compatible with Apple devices
Flexible entry options
Simple to install
Auto-unlock or touch-to-unlock (pick one).
Impressive battery life lasting over a year.
Future-ready with promised Matter support through a firmware update, featuring a Thread-capable radio.
Cons:
Expensive
It doesn't work with Google Assistant
Entry without a phone or key/watch requires a $79 keypad
Not a good option for older doors.
Level Lock+ Design
The Invisible Smart Lock
The Level Lock+ is here, serving as the upgraded version of the previous Level Lock model while retaining its unassuming design. In a world where most smart locks stand out, the Level Lock+ cleverly resembles a standard deadbolt, discreetly incorporating all its smart capabilities within the door without any bulky components visible.
Although the Level Lock+ offers a limited range of color options, including satin nickel and matte black, it may not harmonize well with bronze, gold, or similar door hardware. Additional color choices would have been appreciated to ensure better compatibility. Nonetheless, the Level Lock+ impresses with its sleek and simplistic appearance. Its unobtrusive presence on the door goes unnoticed, making it look ordinary and unremarkable, thereby avoiding unnecessary attention.
These qualities influenced my decision to select the Level Lock+ as one of the best smart locks among the 15 models I rigorously tested. With its seamless integration and understated charm, it proves to be a remarkable choice for those seeking a discreet yet efficient smart lock solution.
Level Lock+ Features
Easy Installation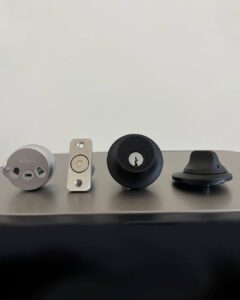 Installing the Level Lock+ is a breeze, as it replaces your existing deadbolt with relative ease.
To ensure a proper fit, the Level Lock+ requires a 2.1-inch borehole in your door. If your door's borehole is too narrow, you can utilize a door lock installation kit to widen it, although this may involve using a power tool. Fortunately, most modern doors come pre-drilled with holes that are already compatible with the Level Lock+, eliminating the need for any modifications.
The installation process involves snapping the front and back components securely into place, followed by fastening two screws through the mechanism to hold the lock together. Once installed, you simply unscrew the end of the bolt and insert the battery. The lock will then initialize and conduct a test to ensure smooth operation when locking the door.
With its straightforward installation procedure, the Level Lock+ makes upgrading to a smart lock a hassle-free experience.
Multiple and flexible entry options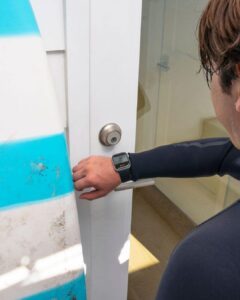 After setup, I integrated the lock into the Level app and connected it to HomeKit, enabling its usage in both the Home App and the Level App.
There are multiple ways to open the lock. You can open the lock through the Level app, Home app, or Siri. You can also use a physical key, tap a keycard, or touch your phone to the lock (with the Level app). This model also supports Apple home keys, allowing you to store a digital key in your Apple Wallet.
By utilizing Home Keys, you can activate "Express Mode" in the Wallet app, granting you the ability to unlock the door without requiring Face ID or a passcode. This feature proves to be convenient as you only need to tap the top of the lock with your iPhone to unlock it, even if your phone is locked. Moreover, it continues to function for a few hours after your iPhone's battery has died, thanks to NFC technology.
With a Home hub, you gain the capability to remotely open the lock for guests or provide them with a passcode so they can use their smartphones to unlock your door whenever necessary.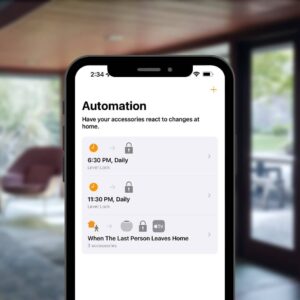 You can configure the Level Lock's accessibility for everyone in your household. The Level app records each time the lock is locked or unlocked. Home app notifications inform you when the Level Lock is accessed. Automation in the Home app lets you automatically lock the Level Lock when the last person leaves, secure it at night, and unlock it when you arrive home.
Apple plans to allow sharing Home Keys with non-members of your Apple Home, eliminating the need for guests to download the Level app (unless you have Level's keypad).
Level Lock+ Performance
Level Lock+ PerformanceI installed the Level Lock+ on my front door to conduct a series of tests. Over several days, I evaluated its user management capabilities, assessing how easily I could add different users. I also examined the functionality of the Level mobile app, specifically its ability to control the lock, add entry codes and digital keys, and manage the authorized users' list. Furthermore, I tested its compatibility with various smart home systems, utilizing the smart home apps from Amazon, Google, and Apple to control the lock. Additionally, I explored the new home keys feature on both an Apple iPhone and an Apple Watch. Throughout all these tests, the Level Lock+ performed exceptionally well.
The Level+ lock does not come with built-in Wi-Fi, but it can connect to Amazon Alexa via Bluetooth if you have a compatible Amazon device with Amazon Sidewalk, like the Ring Video Doorbell. The level has mentioned that it will also be compatible with Google Home and Samsung SmartThings once it adds support for Matter, the new home network standard. However, until that update is available, if your smart home primarily uses Google Home, it would be better to consider the Schlage Encode 2 lock.
---
level lock battery life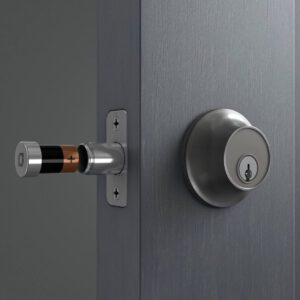 The Level Lock uses a CR2 battery, which costs around $4 per unit. The battery life will depend on how frequently you unlock your door.
According to Level, the Lock Plus model can last up to a year on a single CR2 battery. The battery is conveniently housed inside the bolt and can be easily replaced when needed.
---
How The Level Lock Plus Compares To Other Smart Locks I Reviewed
The Level Lock+ is pricier, but it offers excellent flexibility for granting home access to others. It functions smoothly, looks appealing, and lacks unnecessary complications. However, it doesn't have some features like fingerprint readers found in cheaper locks such as Lockly Flex Touch and Ultraloq U-Bolt Pro. If you prioritize a foolproof access method, those locks might be preferable. The Schlage Encode is another option, supporting Apple home keys and working well with iPhones, but it has a bulkier design. Yes, the Level Lock+ is expensive at $329, equivalent to three Defiant Smart Wi-Fi Deadbolt locks. However, its sophisticated and adaptable access management, along with its compact design, make it highly customizable to your needs. The flexibility it offers is valuable, which is why I consider the Level Lock+ one of the best smart lock choices.
Level Lock vs Level Lock Plus vs Level Lock Touch

The Level Lock Plus ($329) is very similar to the previous Level Lock Touch model. It shares the same clever design that integrates all the smart lock components within the deadbolt housing, eliminating the bulky appearance commonly seen in other smart locks. The main distinction is that the Lock Plus offers support for Apple Home Key, making it one of the two available locks in North America to do so. (The other option is the Schlage Encode Plus, which can be challenging to find in stock.)
Bottom Line
The Level Lock+ is sleek, convenient, and unassuming. Tapping my iPhone opens the door effortlessly. It's useful for guests and workers. However, it's pricey at $329. I expected better security for that price. Level mentions the common C lock cylinder used by many brands, but it's not a strong excuse for a lock over $300. Similar locks cost around $30. Hopefully, the next Level Lock will add extra security features. It doesn't need to be unpickable, but a stronger defense against basic tools would be appreciated.
How to Buy
Other Articles You Might Like
FAQs:
What is level lock plus?
The Level Lock Plus is an upgraded smart lock that offers enhanced security and convenience features for your home. It is an advanced version of the Level Lock, offering additional features and capabilities.
What is the difference between level lock plus and level lock touch?
The Level Lock Plus and Level Lock Touch are similar, but the Plus model offers Apple Home Key support, while the Touch does not.
Is level lock wifi or Bluetooth?
The Level Lock uses Bluetooth technology for connectivity. It does not have built-in Wi-Fi capability.
Is level lock owned by Apple?
No, Level Lock is not owned by Apple. While Level Lock is compatible with Apple HomeKit and offers features that integrate well with Apple devices, it is an independent company.
What grade is Level Lock?
Level states that the Level Lock+ is classified as an ANSI Grade 1 lock, meeting the high standards for a strong and secure deadbolt lock commonly used for entranceways, similar to other residential locks.

How safe is Level lock?
The Level Lock incorporates robust security features, meets industry standards, and utilizes encryption protocols. While no lock is completely invulnerable, it offers a reliable level of safety for residential use.