In our Wyze Lock Bolt review, we found Wyze's smart lock does almost everything you want it to — at a more affordable cost compared to its competitor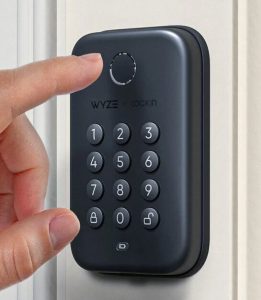 Pros:
Affordable price compared to more expensive models like the Yale Assure Lock 2 or the Schlage Encode Plus
Provides most of the essential features including guest access, temporary codes, auto lock, and lock history
Stylish design that enhances the aesthetics of your home
Easy installation process
Multiple unlocking options: fingerprint, keypad, and mobile app
Battery life is expected to last about a year and there is a fail-safe method in case of low
Flawless performance during testing
Cons:
Bluetooth only, no Wi-Fi connectivity
Lacks some of the advanced features found in more expensive locks with Wi-Fi connectivity, such as remote access
Does not integrate with Alexa or Google for voice control
No geofencing for auto-unlocking
Cannot determine if the door is open or closed, which may result in the lock engaging while the door is open
No physical key
No voice control support
The Wyze Lock Bolt, priced at $69.99, is an affordable and stylish option that may suffice your needs. This lock uses Bluetooth to connect to your phone and provides various unlock methods, including a fingerprint reader, backlit keypad, and mobile app. It also includes an automatic lock feature. However, it lacks advanced features such as voice control, Wi-Fi connectivity, and geo-fencing, which are typically found in pricier smart locks.
As we mentioned, the Wyze Lock Bolt is a Bluetooth-only device, so setup and usage can only be accomplished if your phone is within Bluetooth range. Also, It is not compatible with Wi-Fi and therefore cannot be used with third-party devices or set up for automation such as turning on a light once the door is unlocked.
Although relying only on Bluetooth can pose issues if someone requires entry while you are away, Wyze gets around this by creating one-time emergency codes. This allows you to remotely view and share the code with anyone who requires access during an emergency.
Wyze Lock Bolt Review: Specs, Design, and Features.
Specs:
While the original Wyze Lock relies on most of your existing lock's hardware, the Wyze Lock Bolt is a complete lock assembly that includes an interior and exterior escutcheon, a deadbolt assembly, a strike plate, a mounting plate and hardware, a drilling template, and four AA batteries.
The Design: Wyze lock bolt dimensions
The matte black finish of the exterior escutcheon is visually appealing and it measures 4.5 by 3.0 by 0.8 inches (HWD). The keypad, which includes twelve backlit buttons (0 to 9, lock, and unlock), a battery indicator, and a fingerprint scanner, is made of round and rubberized material. In case of battery failure, a USB power port is located behind a rubber gasket on the bottom edge to operate the lock; however, this model does not come with a keyed backup. The metal escutcheon is rated IPX5 for weatherproofing, making it resistant to rain.
Measuring 6.6 by 3.0 by 1.8 inches, the interior escutcheon boasts the same attractive black finish. The width measurement incorporates the thumb-turn knob for manual operation. A removable panel on the escutcheon's backside reveals the battery compartment and a Bluetooth pairing button.
Wyze Lock Bolt Features:
The Lock Bolt allows users to grant permanent or scheduled access through codes or fingerprint scans. Moreover, it allows generating of one-time access codes that expire after four hours. Additionally, the device includes an Auto-Lock feature, which allows specifying the amount of time after inactivity when the lock engages.
Otherwise, The lock's feature set is limited. It doesn't come with a Wi-Fi radio, so it's impossible to connect it to a device compatible with Alexa or Google Assistant or to create IFTTT applets. Additionally, the lock doesn't support Apple HomeKit, and it can't link with other Wyze devices, like the Wyze Cam V3 and the Wyze Plug. Moreover, since the lock uses Bluetooth to connect to your phone, you need to be within Bluetooth range (approximately 16 feet) to control it with the app. In contrast, the August Smart Wi-Fi Lock ($249.99) is an excellent alternative, albeit much more expensive, that offers support for Alexa, HomeKit, Google Assistant, and IFTTT.
Wyze lock bolt installation
Installing the Wyze Lock Bolt takes less than half an hour if a deadbolt is already installed on your door. However, if you don't have a deadbolt, Wyze provides a template for drilling the necessary holes and a dust box to install in the doorjamb, which is a more comprehensive package than what most of the competitors we've tested offer.
The installation process of the Wyze Lock Bolt is pretty painless. You can choose between following the paper guide or the video installation guide on the Wyze app. Both options are easy to understand.
Wyze lock bolt App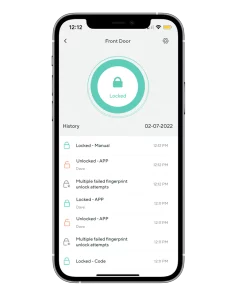 After connecting the app to your lock you can :
Add fingerprints and access codes.
Select a PIN with 4 to 8 digits
Note that the app will not allow the selection of easy-to-guess codes such as 1111.
For increased security, enter any sequence of numbers as long as the four-digit PIN is included to unlock the door.
You may obscure your actual code from prying eyes by adding more numbers before and after it.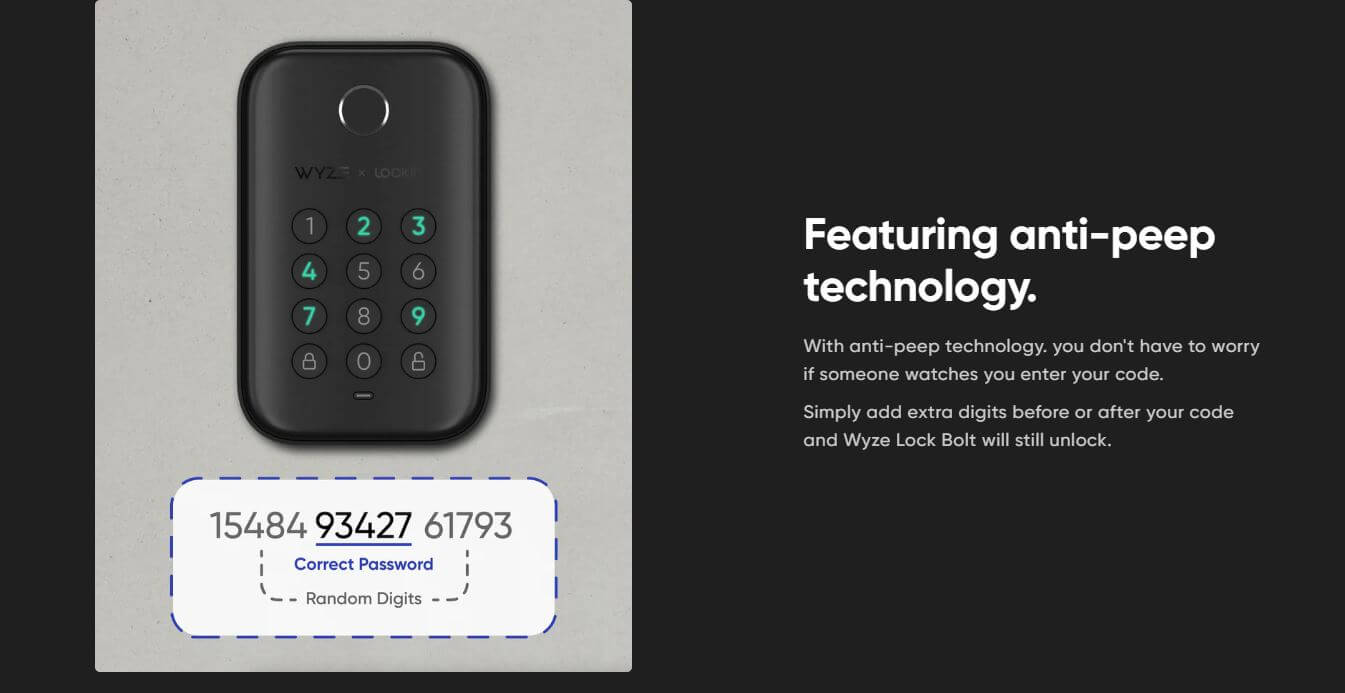 The lock supports up to 20 users, and each user can register multiple fingerprints.
Utilize the intuitive user setup system to restrict user access based on date and/or time of day.
For infrequent visitors, provide one-time codes.
Note that these one-time codes are automatically configured by the lock hardware processor and change every four hours.
The app indicates how long the code is valid for, with a maximum of four hours.
This allows you to provide a one-time code to a visitor even if you are not near the lock.
THE BOTTOM LINE :

The Wyze Lock Bolt, which is Bluetooth-only and has a sleek design, can be easily installed and provides several unlock options. However, it does not have advanced voice commands and does not integrate with other intelligent devices.

If you want to read more about the other smart locks available in the market, check out our list of the best smart locks of this year.

FAQ: Wyze Lock Bolt Review
Wyze lock bolt battery life: How long does the battery last?
According to Wyze, the set of four AA batteries should last up to twelve months before requiring replacement.
Are Wyze locks secure?
The Wyze Lock uses both Bluetooth and Zigbee, standard communication. Additionally, it utilizes AES-128-bit encryption to guarantee secure transmission of all communication. However, no security system is entirely foolproof, and there is always a risk of potential vulnerabilities
Will Wyze Lock work without WiFi?
The Wyze Lock Bolt is a Bluetooth-only device, so setup and usage can only be accomplished if your phone is within Bluetooth range.