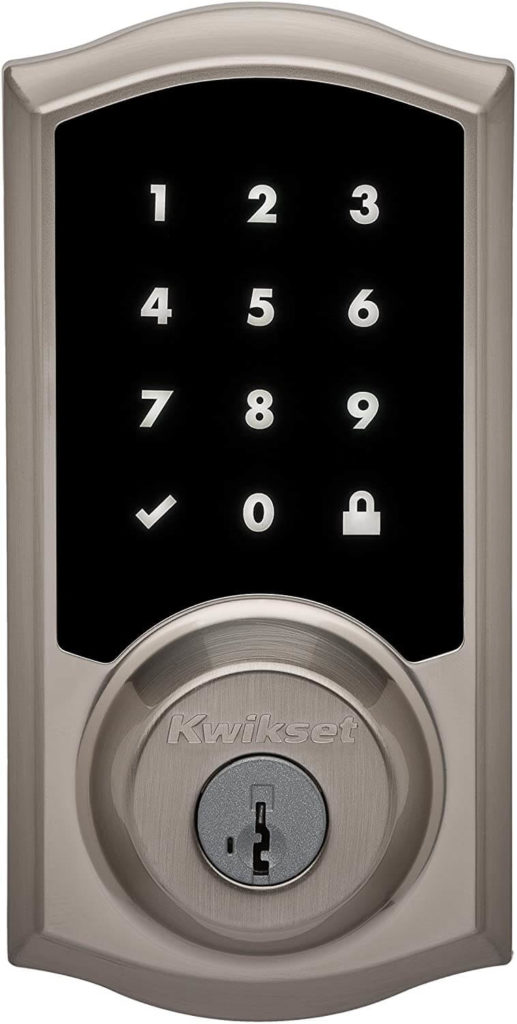 The Kwikset Premis Is very similar to the Schlage Sense, which also offers a keyed entry, touchscreen keypad, and HomeKit compatibility. Even without an Apple Tv, you can use Siri to tell the Premis to unlock and lock; this all gets set up during the former installation. The app is streamlined and simple, though that comes at the expense of more advanced features, like the ability to set individual access schedules and geofencing. The Kwikset Premis feels a touch less strong than the beefy Schlage Sense, but if a less obtrusive (and a bit more simplistic) lock is more to your style, it's a no-brainer.
Pros
Easy to install
Stylish design
Support for remote operation and keycodes
Works with Apple HomeKit and Siri voice commands
Rekeyable lock allows you to change keys
Lock and unlock from anywhere.
Siri keeps a lock historyKeyhole available as backup
Cons
No Google Assistant, Alexa, or IFTTT support
It doesn't work with Android devices
Limited to 30 codes
Requires HomePod or Apple TV for remote access
Design and Features
The Kwikset smart lock set includes:
An exterior escutcheon with a touch-screen keypad
An interior escutcheon
A latch and strike assembly
A mounting plate and mounting hardware
Four AA batteries
A set of keys
Aptly named, the Premise sports a clean, smart design with a smooth glass keypad and curved edges. The device is available in a matte black or satin nickel finish. Although it draws inspiration from traditional lock design, it is compatible with most wood doors.
Measuring 5.5 x 2.7 x 1.2 inches (HWD), the external component features a 12-button touch screen measuring 3.0 x 2.1 inches. This touch screen uses Kwikset's SecureScreen technology to prevent fingerprint code detection on the surface by generating two random digits upon contact. You have to tap each digit before the full keypad is revealed, at which point you can enter your programmed entry code. The exterior escutcheon also contains a keyed cylinder for manually locking and unlocking using the supplied keys.
THE BOTTOM LINE
If you're an Apple HomeKit user, the Kwikset Premis smart lock is worth considering, although the August Wi-Fi Smart Lock provides significantly more features.