When it comes to selecting functional furniture that saves space, a nest of tables is a perfect choice. These versatile pieces of furniture are especially beneficial for smaller living spaces, offering an additional surface area without taking up too much room. With nesting tables, you can enjoy a practical solution that doesn't require a bulky, permanent fixture.
Looking for the best nesting tables to elevate your decor and save space? Discover top-rated nesting tables that are both stylish and functional. From sleek modern designs to classic wood finishes, find the perfect nest of tables for your home.
Hairpin Leg Nesting Coffee Table Set
These sleek and stylish nesting tables are a perfect addition to modern interiors. Featuring wood grain tops and hairpin legs, they seamlessly blend with Scandinavian homes and contemporary decor.
Estelle Gold Metal & Mango Wood Nest of Tables Set of Three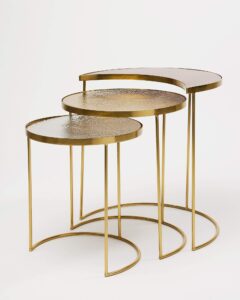 The main table has a crescent moon shape, while the smaller ones are shaped like full moons. The use of gold-toned metal and mango wood creates a luxurious appearance.
Retro Tripod Nesting Tables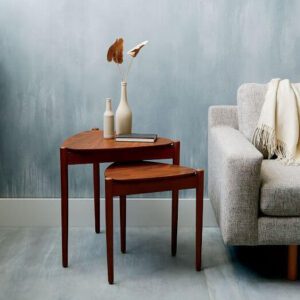 Enhance your mid-century modern sofa with these simple yet elegant nesting tables made of walnut veneer. Alternatively, place them in an unused corner to liven up a dull and vacant area.
Lavish Home Convertible Nesting End Tables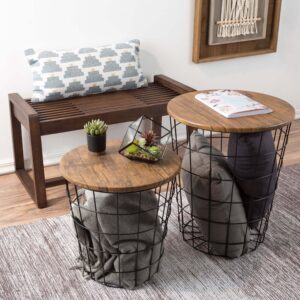 The Lavish Home Convertible Nesting End Tables offer the perfect two-in-one solution for those seeking functionality and style. This set provides a durable surface and a storage compartment that can accommodate pillows and blankets. You can keep your beddings in these nest of tables, avoiding the need to constantly move between rooms to get cozy in the living area. When not in use, these tables can declutter your living space by storing magazines, toys, and other items. For a neater appearance, you can even nest the smaller table inside the larger one.
Morgan Coffee Set Nest of 2 Tables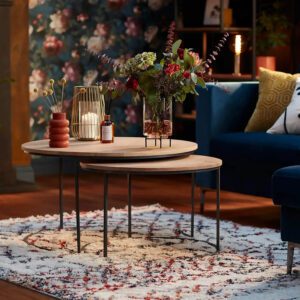 This nesting coffee table blends sleek mango wood with a minimalist metal frame to perfectly balance style and utility. Its modern shape makes it an excellent addition to any contemporary living room.
Modern Round Nesting Coffee Tables With Gold Dipped Legs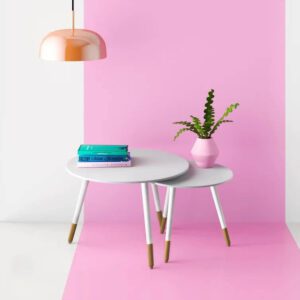 These nesting tables exude a simple yet elegant style. Their minimalist design is accentuated by gold-dipped legs, adding a touch of sophistication to their overall look.
BAMEOS Bamboo Nesting Tables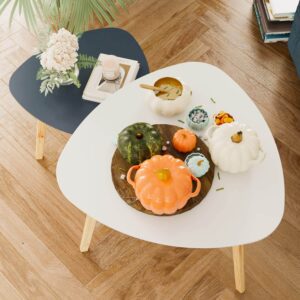 Enhance your room's personality with fun-shaped statement pieces like the BAMEOS Bamboo nest of tables. These triangle-shaped tables will infuse your space with a unique character and stylishly unify the room. Mix and match the two available colors to create a chic appearance. Brighten up your living room or workspace by incorporating these nests of tables as the perfect accent to uplift your space.
Juline nesting tables
When it comes to small spaces, versatile items are top performers. These wire basket bases with wooden lids are a great example, as they can serve as a storage spot for extra blankets or books in your living room. Moreover, when one is not in use, you can stack them up to save space. Overall, they're a blue ribbon winner for their functionality and efficiency in small spaces.
Set Of Three Rattan Nesting Tables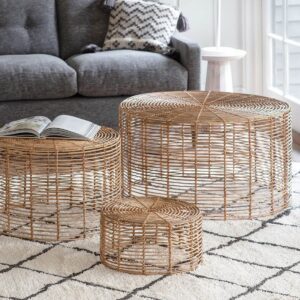 This set of stylish rattan tables is proof that good things often come in threes. With three different sizes, you'll have a suitable option for any surface space need, and when you want to save space, you can effortlessly stack them together. This set of nesting tables is perfect for homes with neutral decor, as it complements any aesthetic seamlessly. Overall, it's an ideal addition to your living space.
Scandinavian Style White Top Nesting Coffee Table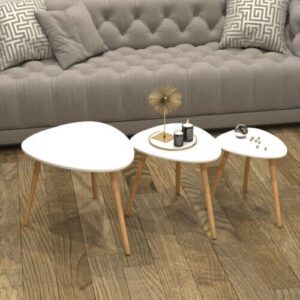 With their sleek and glossy white finish, these nest of tables exudes Scandinavian charm and simplicity. Whether you choose to dress them up or keep them minimalistic, they'll always add a touch of ultra-stylishness to your decor.
mDesign Modern Nesting Tables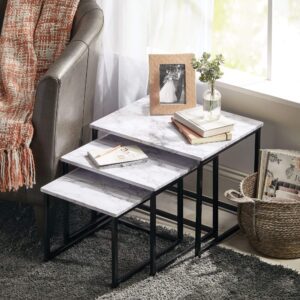 Add a touch of class to your room with the mDesign Modern Farmhouse Nesting End Tables! This set of three boasts a sophisticated marble print that exudes elegance whether they're stacked or separated. With three additional flat surfaces at your disposal, you can enjoy more storage space. These nest of tables are versatile and can be used anywhere from your bedside to your home office. Overall, it's a perfect addition to elevate your home decor.
Acrylic Nesting Tables
In small space decoration, it's crucial to eliminate visual clutter. These three elegant acrylic nests of tables can complement your modern decor flawlessly without overwhelming your space's aesthetic.
Josef Albers Nesting Tables
The Nesting Tables, a set of four tables, were meticulously designed by the esteemed Bauhaus master Josef Albers, whose artistic achievements have earned him a place in MoMA's prestigious collection. During his tenure as the artistic director of the furniture workshop at the Bauhaus from 1926 to 1927, Albers conceived these tables for the private residence of his closest friends in Berlin, himself, and his wife Anni. Albers, renowned for his expertise in geometric paintings, infused these tables with his logical approach and unwavering passion for color.
Crafted with utmost care in Germany, these tables feature a solid oak construction complemented by lacquered glass tops. Each table stands on its own as an individual piece of functional art, yet its true brilliance lies in its ability to interlock and complement one another. They embody a harmonious duality, existing both independently and interdependently, allowing for versatile arrangements that suit various spatial and aesthetic needs.
The Nesting Tables by Josef Albers is a testament to his mastery of design and his unwavering commitment to creating objects that seamlessly merge form and function. With their exceptional craftsmanship and timeless appeal, these tables serve as a striking addition to any interior space, embodying the enduring legacy of Josef Albers and the influential Bauhaus movement.
Antelope White Faux Marble Top Nesting Tables Set of 2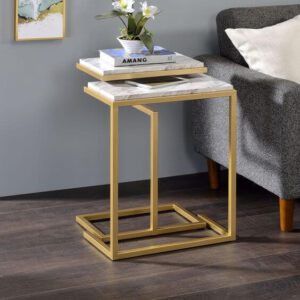 These two side tables form a clever nesting set, featuring minimalist mango wood bases and pristine white marble tops. The color contrast between the two materials creates an eye-catching appeal that's further enhanced by the tables' sleek design. The angled legs add a nice finishing touch to this beautiful piece of furniture.
Unique Shaped Modern White Nesting Coffee Tables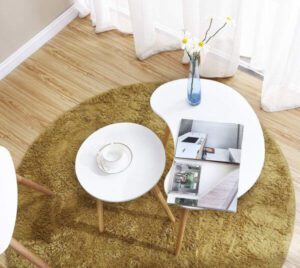 While many nesting tables tend to look alike, this exceptional set stands out from the crowd. These minimalist tables break the mold with their bean-shaped top table and elongated legs, adding subtle yet unique design elements.
Walker Edison Mid Century Modern Hairpin Coffee Table Set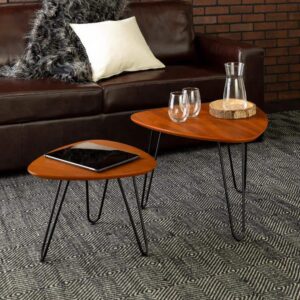 For a Mad Men-inspired vintage look, consider furnishing your space with the Walker Edison Mid-Century Modern Hairpin Coffee Table Set. This nesting table set features a distinctive hairpin leg design that supports a guitar pick-shaped wooden tabletop, exuding a sophisticated retro vibe. Not only do these nesting tables look stylish, but they are also incredibly sturdy and can withstand everyday use.
Benefits of Using a Nesting Table
Space-saving: Nesting tables are designed to fit together, which makes them an ideal choice for small living spaces where floor space is limited. When not in use, you can stack the tables together to create more room.
Decorative: a nest of tables comes in various designs and materials, making them a great addition to any home decor. They can add visual interest and style to any room.
Versatile: a nest of tables are available in different styles, shapes, and sizes, making them versatile furniture pieces that can be used in various settings, such as living rooms, bedrooms, and home offices
Convenient: With a nesting table, you can have multiple surfaces to place items like drinks, snacks, and books while still saving space. Additionally, you can easily move the tables around to suit your needs.
Cost-effective: Investing in a nest of tables set can be a cost-effective solution compared to purchasing separate individual tables. It's a practical and functional furniture piece that provides you with multiple options for a fraction of the cost.
What to Consider Before Buying Nesting Tables
If you're considering purchasing a set of nesting tables, there are several essential factors to keep in mind:
Size and Shape: Consider the size and shape of the nesting tables you want to purchase to ensure they fit your space and complement your existing decor. Also, consider the size of the tables when they are stacked together and how much space they will take up when not in use.
Material and Durability: come in a variety of materials such as wood, metal, glass, and acrylic. Choose a material that complements your decor, and ensure the tables are durable enough to withstand daily use.
Style and Design: Nesting tables are available in various styles, from traditional to modern, and in different designs. Choose a set that matches your style and blends with the overall aesthetic of your space.
Functionality: Consider how you plan to use the nesting tables, whether for extra surface space or as a decorative accent. Determine the weight capacity of each table and whether they can accommodate your intended use.
Price: Set a budget for your nesting tables and compare prices from different retailers to find a set that meets your needs and falls within your price range.
Brand Reputation: Research the reputation of the brand before making a purchase to ensure you are investing in a quality product with good customer service and after-sales support.
Other Articles You Might Like
FAQs:
What are Nesting Tables?
Nesting tables typically consist of two or more tables of different sizes that can be stacked together in a space-saving manner.
What is the point of nesting tables?
Nesting tables play a functional and decorative role in interior design. These tables, which come in varying sizes, allow for nesting or stacking to save space when not in use. They offer versatility by serving as individual tables or creating a layered look when arranged together. This makes them ideal for small living spaces.
Furthermore, a nest of tables provides a decorative element to a room, available in various materials, finishes, and designs to complement a range of interior styles. They can serve as side tables, coffee tables, or accent pieces, adding interest and texture to any space.
Where do you put the nest of a table?
When it comes to a nest of tables, the location where they are placed depends on your individual preferences and the layout of your space. Typically, people use a nest of tables in living rooms or family rooms as side tables, coffee tables, or accent pieces. Moreover, you can also use them as nightstands in bedrooms or additional work surfaces in home offices.
Can you use a nesting table as a coffee table?
Yes, you can use a nesting table as a coffee table. In fact, nesting tables are often used as coffee tables because they offer the same functionality while providing the added benefit of being able to save space when not in use.