Organizing a small kitchen can be a challenge, but with the right approach, it can also be a fun and rewarding experience. Whether you're short on space or simply looking to streamline your cooking and meal preparation process, there are several steps you can take to perfectly organize your small kitchen. If you're looking for clever and efficient ways to store your essentials, browse through our roundup of unique Small Kitchen Organization Ideas.
1. Maximize Your Countertop Space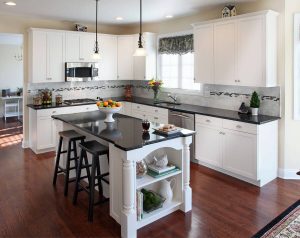 Countertops are a valuable resource in a small kitchen, so it's important to keep them as clear as possible. This can include investing in multi-purpose appliances, such as a toaster oven or a pressure cooker, that can help you free up space on your countertops. Additionally, consider using under-counter storage solutions, such as pull-out shelves or storage baskets, to help you store items without cluttering your counters.
There are two options available to you: crafting it yourself with a small quantity of wood and some staining material, or purchasing a ready-made version from various home decor retailers.
2. Add Wall Shelving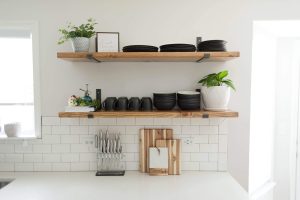 One of the key challenges of organizing a small kitchen is finding enough storage space. To make the most of your limited space, consider using vertical space to your advantage. This can include installing shelves or stacking units that can be mounted on the wall, making it easy to store dishes, cookware, and other kitchen essentials.
In order to maximize your space, it is advisable to transfer visually attractive dishes to open shelves while allocating cabinet space for less visually appealing items such as cereal boxes.
3. Maximize Kitchen Cabinet Space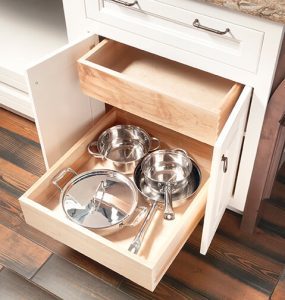 Cabinets are often the primary storage area in a kitchen, so it's important to optimize their space. An interior designer can help you choose the right cabinet configuration to maximize your storage space, while also making the most of your available space. For example, consider adding pull-out drawers or lazy susans to help you access items in the back of your cabinets more easily.
4. Add Bins to Your Bottom Drawers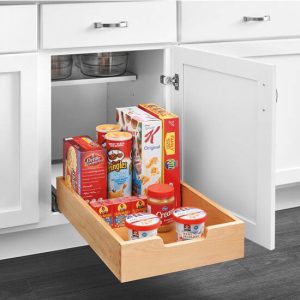 Dedicate the lower drawers of your kitchen for storing jars and cans. Opt for 16-inch deep bins to maintain their organization and label each bin appropriately for easy access to your desired items.
Related: Amazing Space-Saving Kitchen Ideas and Ingenious kitchen designs
5. Add Cabinet Shelf Risers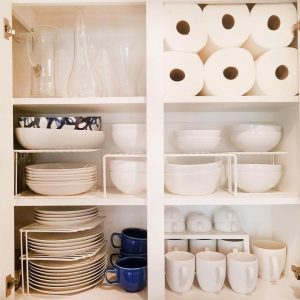 Shelf risers provide an additional level of storage space within your existing shelf structure. Apart from organizing cups, mugs, and dinner & salad plates, they can also be used for pantry items, spices, Tupperware, and many other purposes.
6. Store Pans and Pots on Sliding Shelves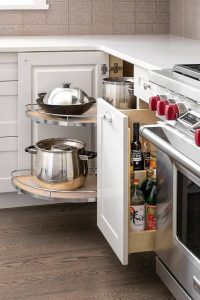 Consider installing a corner pullout cabinet system if you cannot fit your pots and pans into your square cabinet. This system will allow for easy accessibility to your pots while ensuring the ease of opening and closing the cabinet.
7. Try a Sideboard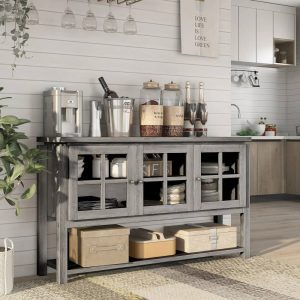 A sideboard can serve as a great storage tool if you have an open-concept kitchen and dining room. While traditionally intended for table linens or dinnerware, you can repurpose this statement-making piece to accommodate nearly any kitchen staple.
8. Use All Of Your Wall Space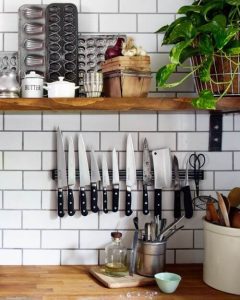 When struggling to find storage in a small kitchen, it's essential to consider utilizing the unused wall space. By hanging magnetic strips for knives and utensils or metal rods for fruit baskets, the walls can work harder to provide more storage options. Installing wall storage behind the sink or near the food prep area can make your go-to items easily accessible. Hence, it's crucial not to overlook the potential of empty walls in small pantry-less kitchens.
9. Try Lazy Susans for Ease & Storage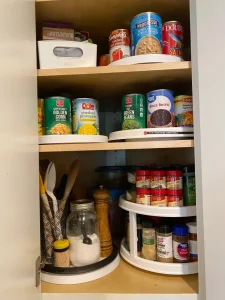 Lazy susans are an excellent organizational tool that provides easy accessibility and works wonders in corner cabinets. In a small kitchen, they can be used for a variety of purposes, such as storing oils, vinegar, spices, and smaller pantry items.
10. Install a Pullout Pantry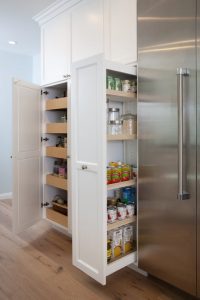 Pull-Out pantry cabinets are an excellent and discreet way to maintain kitchen organization. They allow you to access items from both sides, providing easy access to everything that's tucked away in the back.
11. Organize Your Drawers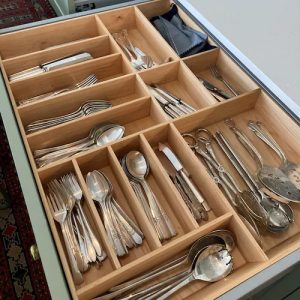 You can maximize your drawer space and minimize clutter on your countertops by keeping your drawers well-organized. To achieve this, invest in drawer dividers. Although you may not want to store dry goods or baking essentials in your drawers, you can still use this space effectively by keeping it clean and organized.
A silverware tray is an essential starting point. If you have more drawers available, consider using items like bamboo drawer dividers or a wood knife block. These can help you make the most of your drawer space and keep your kitchen goods tidy and easily accessible.
12. Get a Rolling Island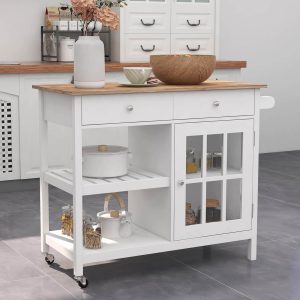 Having a small kitchen without an island doesn't have to prevent you from having one. You can invest in a rolling island cart that provides additional counter and storage space. Since it comes with wheels, you can easily move it aside to create more room whenever you need it.
13. Add Pot Racks to Your Walls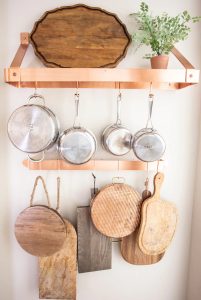 Pot racks are great for hanging pans and pots that can't fit in your drawers. Use racks to hang them in a free space on the wall.
14. Use the Top of Your Fridge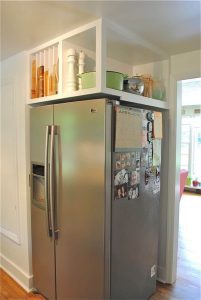 Do you have unused space above your fridge? Make use of it! Whether there are cabinets installed or it's just an empty area, it can serve as an extra storage space for your belongings. To make the most of this space, I suggest using baskets as they function like large drawers and can be easily taken up and down. You can use them to store extra dish towels, fresh fruit, or dry goods.
15. Use Pegboard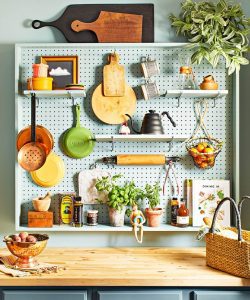 When it comes to increasing storage space in your kitchen, pegboard is one of the most versatile materials you can use. With this board, you can hang baskets of fruit or shelves filled with oils, utensils, and other kitchen essentials for quick and easy access.
16. Add Corner Shelves in a Small Kitchen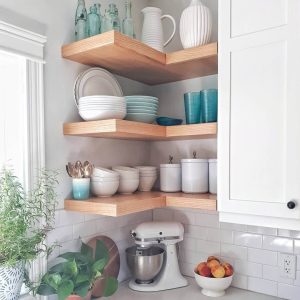 One of the best Small Kitchen Organization Ideas is to add corner shelves. These shelves can help you make the most of unused space in the corner of your kitchen and provide an area to store items like plates, cups, and other small kitchen accessories. By utilizing corner shelves, you can create more counter space and keep your kitchen looking neat and tidy.
17. Get Some Command Strips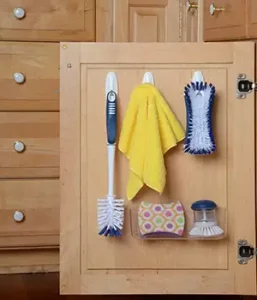 Command strips can be extremely useful in freeing up a little extra storage space in your kitchen. Hang items like potholders and wooden spoons inside cabinet doors using command strips to make the most of your available space. This simple solution can help you maximize storage in your kitchen and keep your countertops clutter-free.
18. Invest in a Multi-Purpose Island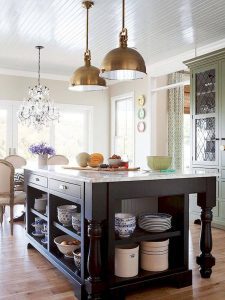 If you have the space, a kitchen island can be a valuable asset in a small kitchen. Consider investing in a multi-purpose island that can be used for food preparation, storage, and even dining. Look for an island that has drawers, shelves, or a built-in cutting board to maximize its storage potential.
19 . Create a Slide-Out Prep Station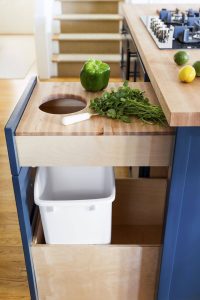 Here's one of the most clever Small Kitchen Organization Ideas, Build a cutting board into a drawer like designer Jenn Feldman did here. By adding a hole directly over the trash can, you can easily dispose of peels and pits as you prepare your food.
20. Use the Tops of Cabinets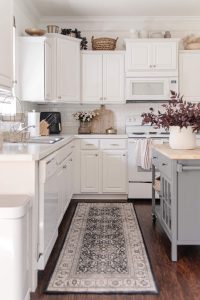 In a small kitchen, no space goes unused. Furthermore, the tops of cabinets are perfect for storing items that are not used daily, such as entertaining essentials or extra dishes.
In conclusion, there are many Small Kitchen Organization Ideas that you can implement with some careful planning and a few smart organizational strategies. By maximizing cabinet space, utilizing vertical space, keeping countertops clear, investing in a multi-purpose island, labeling everything, and exploring other creative storage solutions, you can transform your small kitchen into a functional, organized, and beautiful space that meets all of your cooking and storage needs.
Related: How To Make a Studio Apartment Look Bigger: 30 Styling Tricks