Murphy Beds: They're a hit or miss among some people, but a must-consider for anyone with limited space. These versatile furniture items can turn an office into a guest room or a living room into a bedroom in seconds. There are even Murphy beds that can serve as a sofa or workspace during the day and a bed at night.
The key benefit of a Murphy bed over a standard small bed or a sofa bed is its space-saving feature when not in use. Additionally, Murphy beds offer more comfort as they usually come with a traditional mattress, which is more comfortable than a sofa bed's cushion. Each room's design may vary, but a Murphy bed is a more practical and livable option.
There's a wide range of Murphy bed configurations, such as a bed that transforms into a sofa, dining table, or shelf. It's crucial to measure your space several times to ensure a proper fit, no matter the layout. You'll soon wonder why you didn't make this intelligent investment earlier. Your purchase will feel like a gift of a new room. Browse the options and enjoy exploring new ways to optimize your space.
---
Who it's for:
People with small spaces who need to save room
People who want a versatile piece of furniture that can be used as a bed, desk, and storage unit
People who are willing to invest in a high-quality product
Who it isn't for:
People on a budget
People who don't have a lot of space for installation
Unique Murphy beds can sometimes go unnoticed. Unlike the traditional wall unit design, these beds rotate 360 degrees from a bookshelf into a queen-sized bed. The bookcase is easy to move, and the bed can be opened quickly.
LGM rotating wall bed price at the time of publishing: Start From $5,000
---
BEST OVERALL: Red Barrel Studio Crossfell Murphy Bed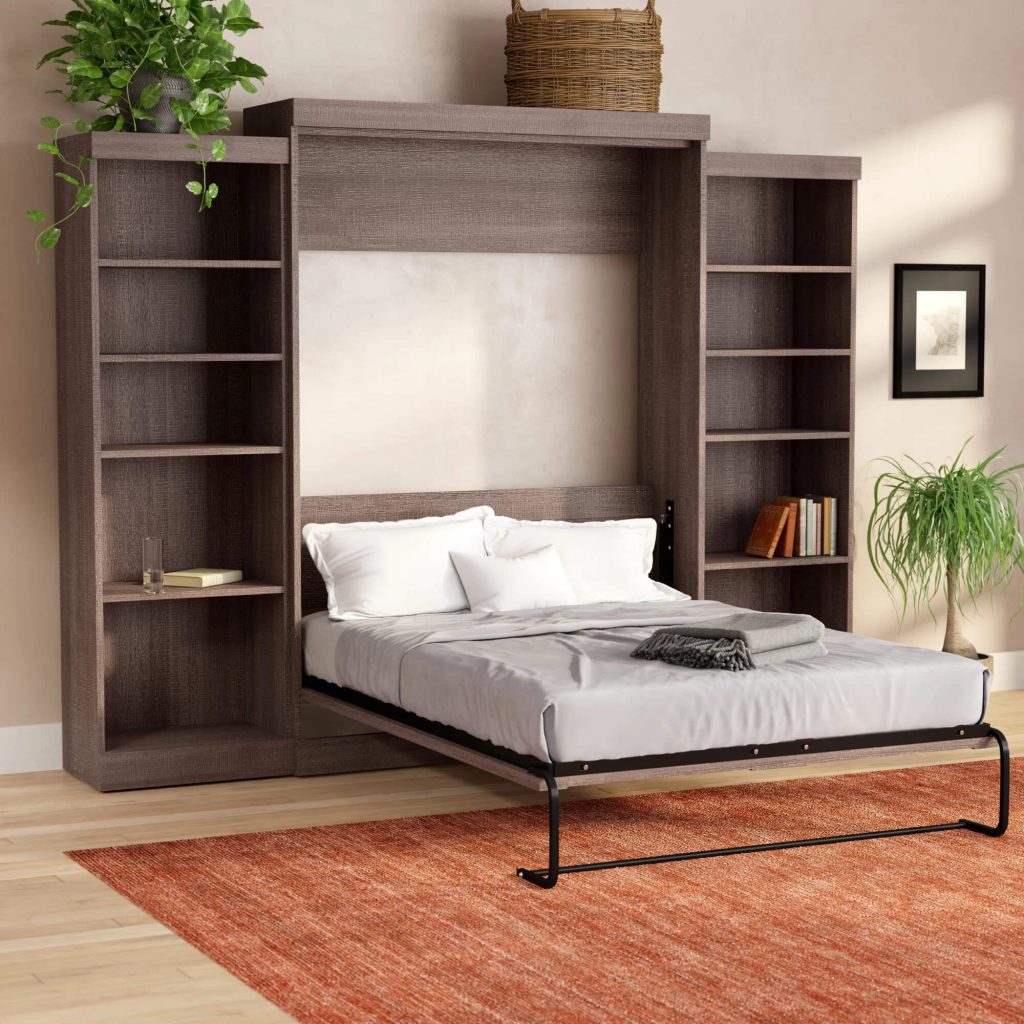 The Crossfell Murphy Bed is a stylish and functional piece of furniture that can be used in a spare bedroom, office, or living room. Available in both full and queen sizes, this unit features two integrated bookcases and comes in three classic finishes to fit any decor. When the bed is folded up, the bookcases give it the appearance of an entertainment center.
This Murphy bed boasts a Shaker-style design and a dual-piston system for smooth and secure operation. With a weight capacity of 1,000 pounds, it is recommended to use a mattress weighing at least 70 pounds for optimal performance. The two bookcases are equipped with two fixed shelves and three adjustable shelves, each capable of supporting up to 20 pounds.
Price: The Red Barrel Studio Crossfell Murphy Bed ranges in price from $1,200 to $1,500 USD, depending on the size and configuration
---
BEST WITH SECTIONAL: Swing Chaise Queen Wall Bed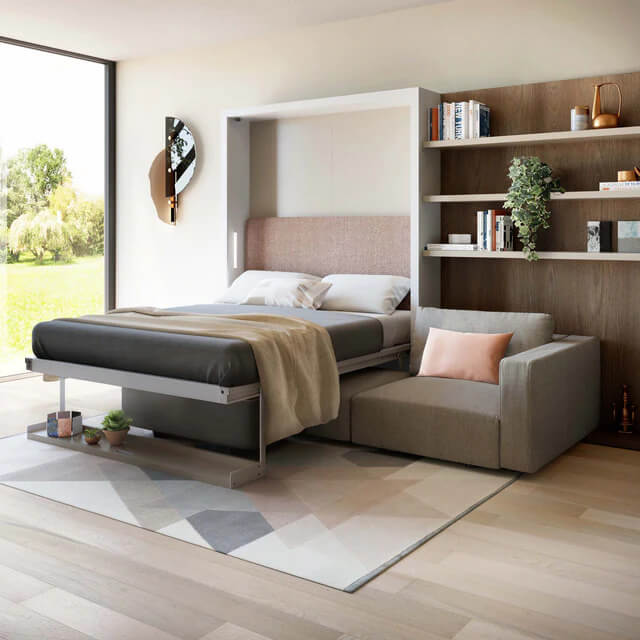 A sectional, bed, and bookcase all in one, this Murphy bed offers ultimate versatility. It can accommodate up to three guests during dinner parties, then fold out into a bed when needed.
BEST BUDGET MURPHY BEDS
Colquitt Murphy Bed
Murphy beds are perfect for saving space, and if you have a small room or a limited budget, you should consider even more compact options. This Colquitt Murphy Bed a great example – it's budget-friendly and takes up minimal space.
The Colquitt Murphy Bed is Made from engineered wood and offered in three finishes. It looks like a simple wall cabinet when not in use. Equipped with a dual-piston system for effortless lifting and a Euro slat mattress support, it eliminates the need for a box spring. Keep in mind that the mattress is not included, and it should be no thicker than 12 inches.
Zipcode Design: Rogelio Storage Murphy Bed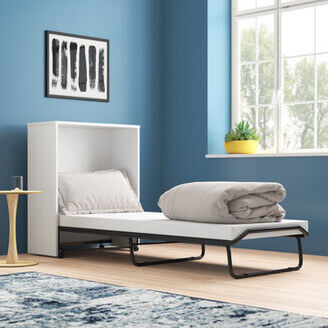 The Rogelio Storage Murphy Bed is a wheeled folding bed that can be moved around your home with ease. It has a unique feature – when the bed is in use, the storage cabinet acts as a headboard, allowing you to use multiple pillows comfortably.
---
MOST POPULAR: Kadeja Wall Bed

The Kadeja Murphy bed is a sleek, modern design that can easily fit into any decor style. With three wood finishes and a cabinet style that seamlessly blends into any space, you can elevate its look by adding stylish linens and chic nightstands.
BEST MURPHY BED CHEST
---
BEST MURPHY BEDS WITT CHEST
Southampton Murphy Bed Chest
Upgrade your tech game with a Murphy bed chest that doubles as a charging station. Conveniently charge your phone or power up your lamps from the comfort of your bed. The best part, a memory foam mattress is included for ultimate comfort – simply inflate and enjoy.
Nantucket Murphy Bed Chest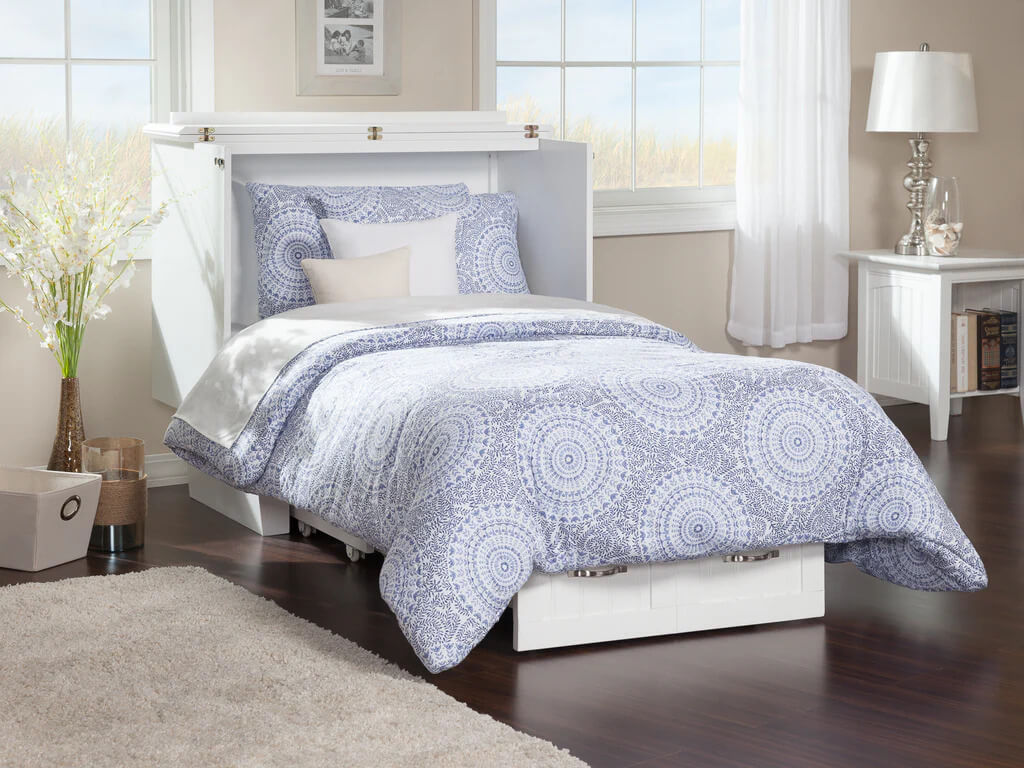 Are you looking for a Murphy bed that doesn't require wall anchoring? Consider a freestanding option like this one. Made from solid hardwood and available in three finishes, it doubles as a storage chest with two drawers and two USB charging ports. Unfold it to reveal a luxurious 6-inch gel-infused foam mattress that will amaze your guests.
Loon Peak Giannini Queen Murphy Bed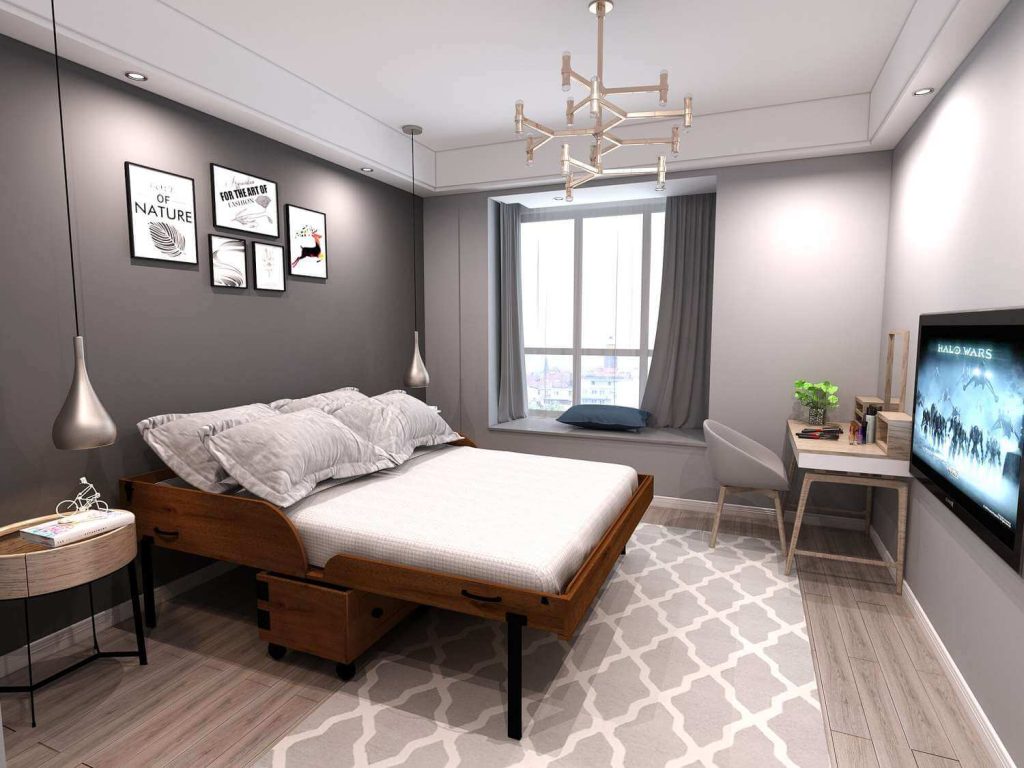 The Giannini Murphy Bed is a versatile option that combines the functionality of a traditional Murphy bed with the mobility of a chest of drawers. Unlike wall-mounted Murphy beds, it folds up into a chest with wheels, which can be moved from room to room. When opened, it transforms into a Queen-size bed with a gel memory foam mattress included. This makes it a great solution for those needing an extra bed that can be easily stored and relocated.
---
Best Horizontal Murphy Wall Beds
West Elm Murphy Wall Bed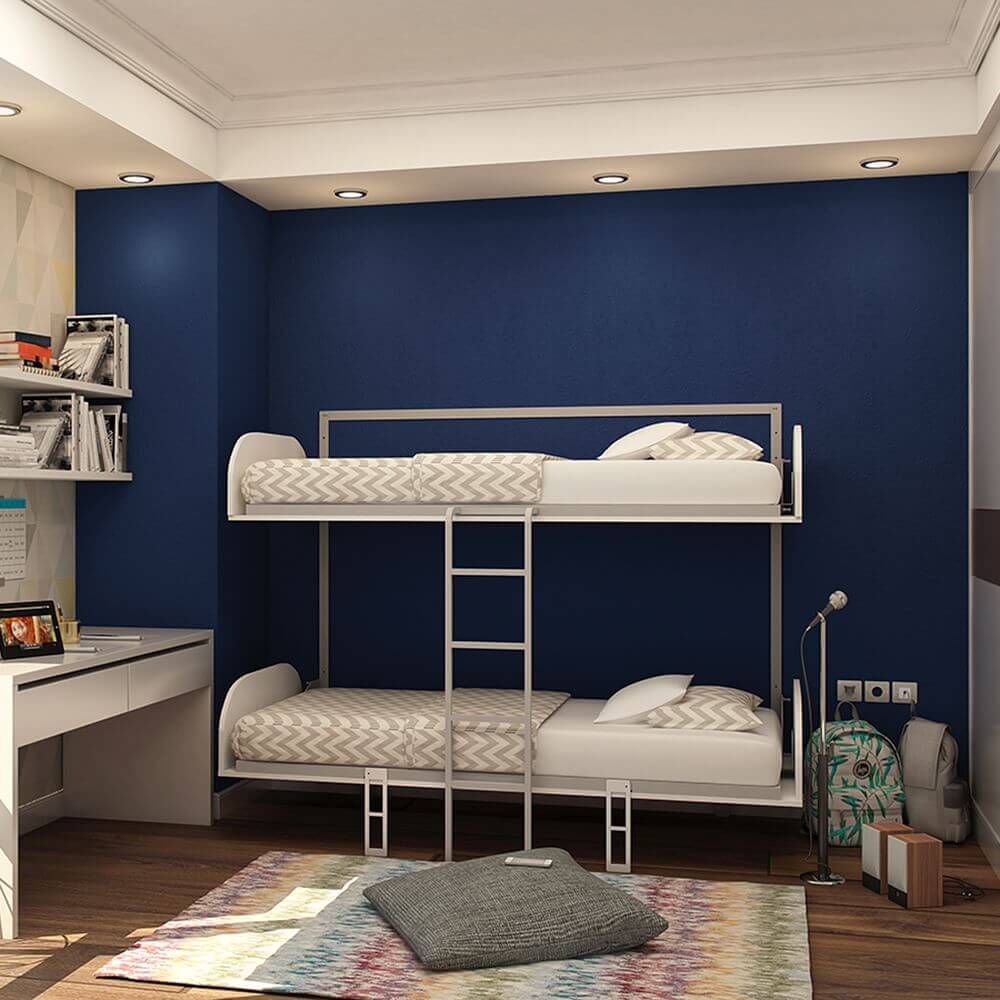 For a more clever solution, consider West Elm's Murphy Wall Bed. The design is offered as either a single bed or a bunk bed to maximize wall space. Available in white, light wood, or graphite finishes, this compact design comes in Twin/Twin XL or Full/Full XL for a single bed and Twin/Twin XL for a bunk bed.
This bed is suitable for foam mattresses up to 6 inches thick and folds horizontally, like a train sleeper bed. It extends only 15 inches from the wall when closed, making it an ideal choice for limited spaces. The bed doesn't come with a mattress but is equipped with convenient mounting brackets for easy assembly.
Urban Stack Murphy Bunk Bed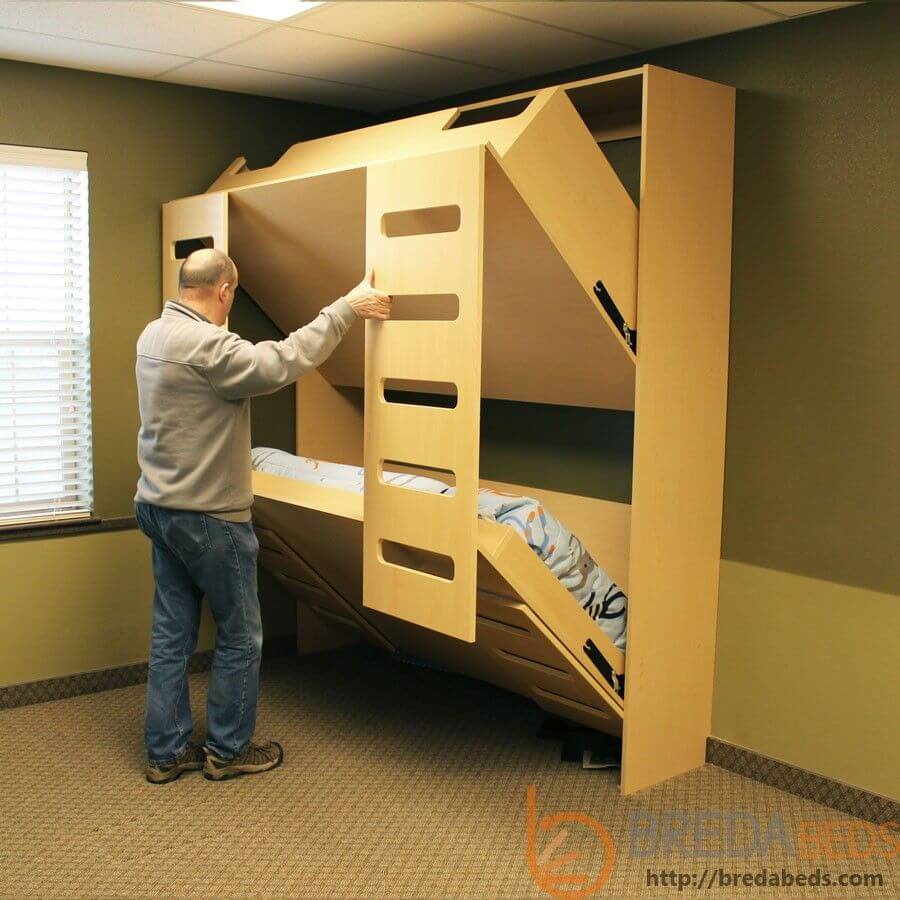 A Murphy bed that transforms into a bunk bed is the perfect solution for a guest room. Its horizontal design saves floor space, and the dual ladders add a stylish touch to the cabinet when closed.
Related Article: Space Saving bunk Beds ideas for small rooms
BredaBeds Horizontal Urban Murphy Bed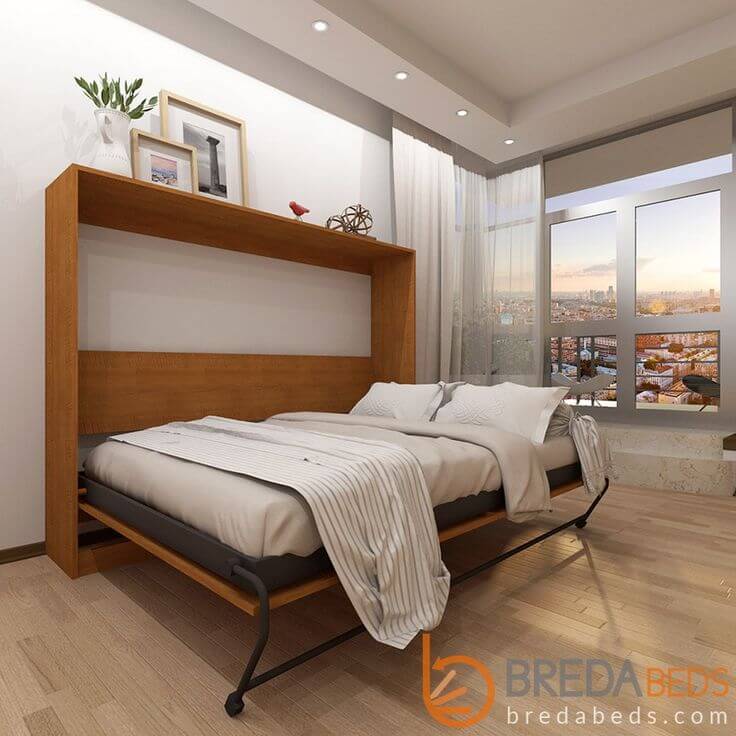 This Murphy bed stands out due to its horizontal folding mechanism. Additionally, it offers numerous customization options including a range of colors, hardware finishes, and baseboard notch choices, allowing you to design your ideal bed.

This bed comes in a variety of sizes, including Twin, Twin XL, Full, and Queen, and has a compact profile when folded. It is designed to accommodate mattresses up to 11 inches thick, ensuring comfort comparable to a traditional platform bed. Made to order, this bed may require a few weeks of waiting, but the opportunity to personalize every detail makes the wait worth it.
Audet Queen Storage Murphy Bed with Mattress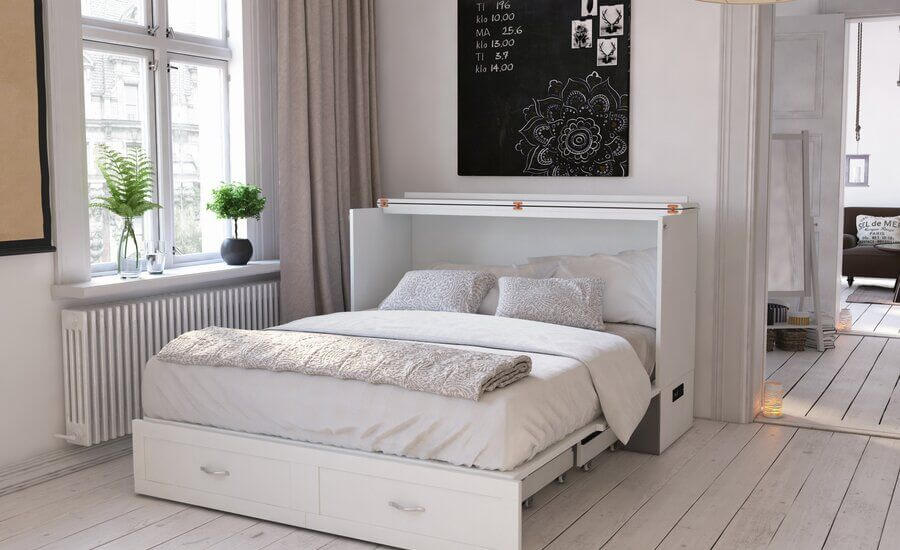 Are you looking for a space-saving bed that fits low ceilings? Your search is over. This must-have bed not only offers ease of use but also comes with a memory foam mattress – unbeatable!
---
BEST TRADITIONAL MURPHY BED: Hover Compact Wall Bed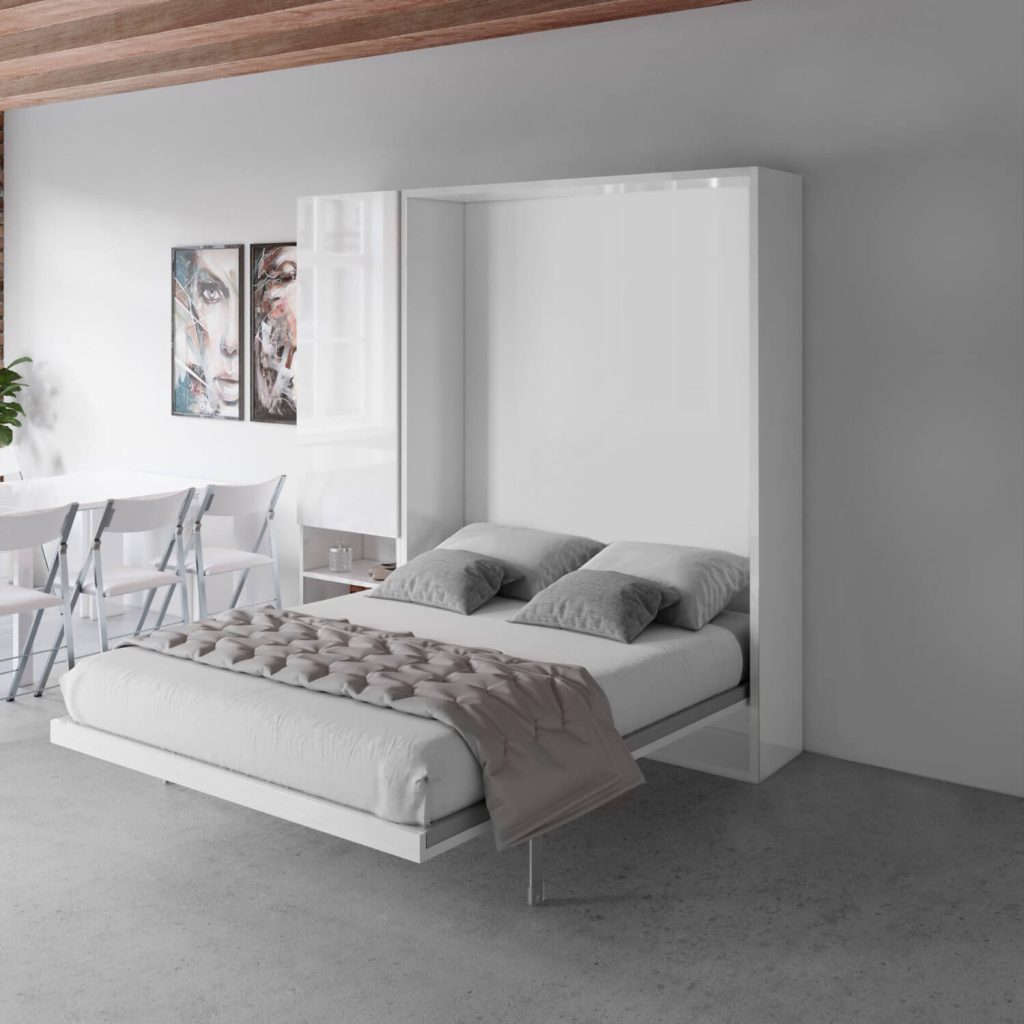 Expand Furniture's hover Compact Wall Bed is the epitome of sleek design in vertical Murphy beds. Its tight fit and hidden handles create an ultra-lightweight appearance, and the smooth piston system provides effortless levering. The bed is available in various panel finishes and can accommodate mattresses up to 10 inches thick. Available in twin, double, or king sizes.
---
BEST MURPHY BED WITH DESK AND STORAGE
Latitude Run Loyalton Storage Murphy Bed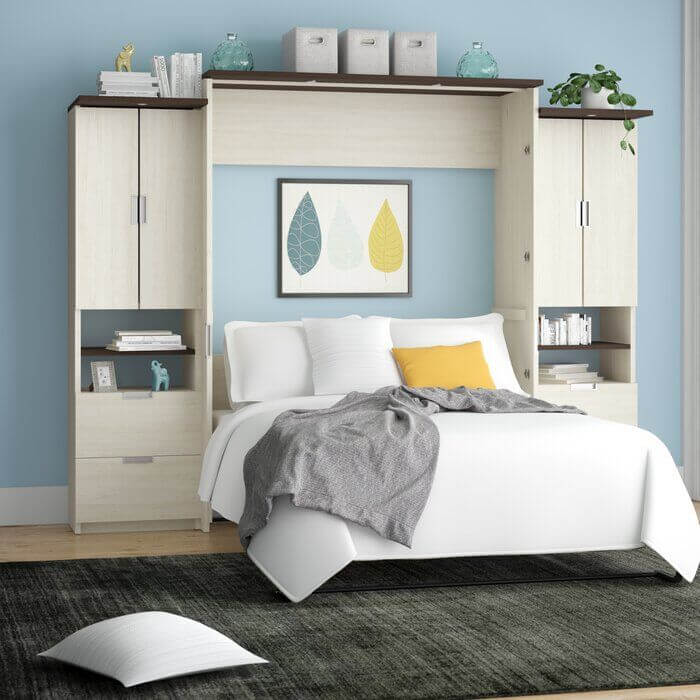 Latitude Run's Loyalton Storage Murphy Bed offers versatility and functionality. The bed, available in Full or Queen sizes, serves as a multi-purpose workstation and provides ample storage space for office essentials, books, or bedding on either side.
The Bed can hold mattresses up to 12 inches thick, offering a wider selection of mattress options compared to other Murphy beds. It also features built-in lighting above the desk/bed and cabinets on each side, eliminating the need for additional bedside lamps or task lighting.
Walley Storage Bed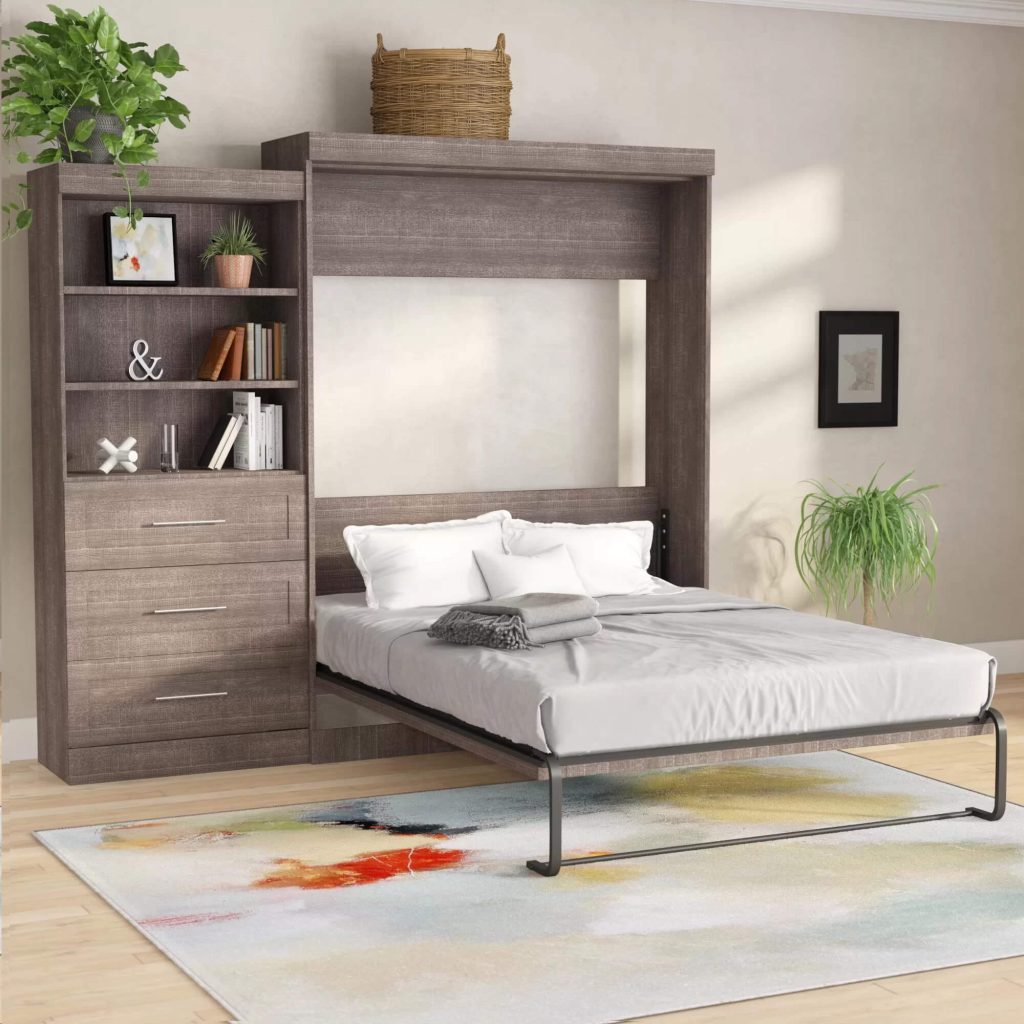 When living in a one-room space, a Murphy bed becomes a necessity. However, a limited room often means sacrificing furniture like a nightstand or dresser. The Walley Storage bed solves this problem, offering built-in storage drawers for clothing and customizable open shelving.
---
Best Murphy For Kids: Harper & Bright Murphy Bed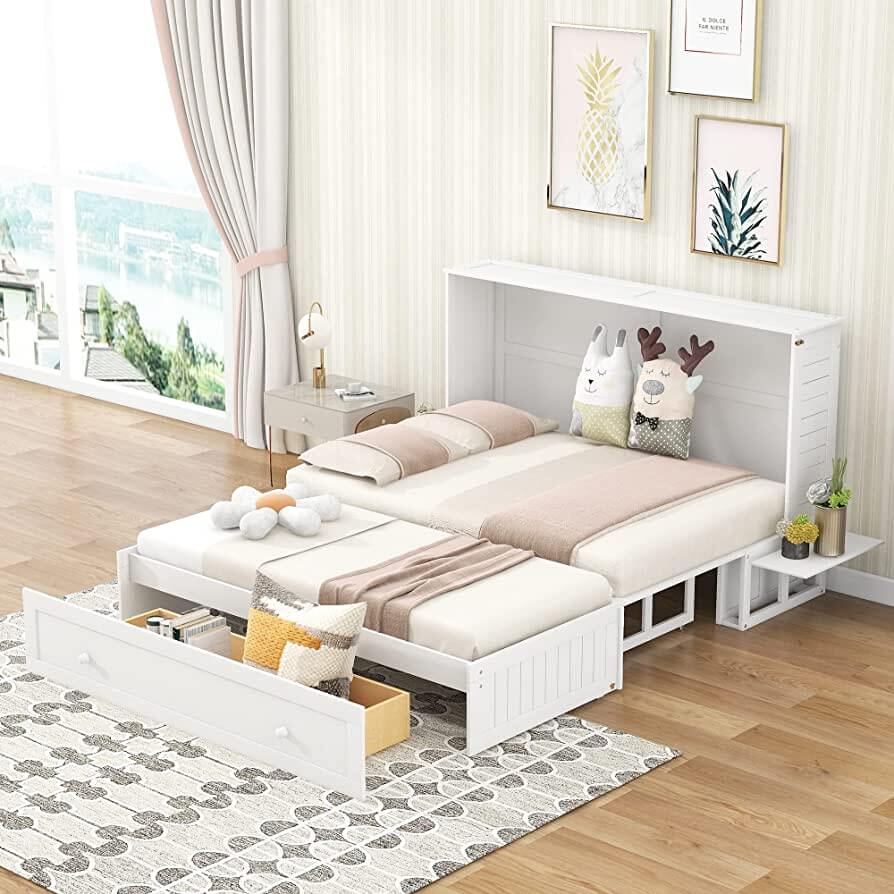 The children's rooms in our homes are frequently the most compact. Thus, a versatile daybed that transforms into two beds for sleepovers and evolves with your child is essential. The extra storage drawer for added blankets and toys is the cherry on top.

MOST COMFORTABLE MURPHY BED: Bestar Queen Murphy Bed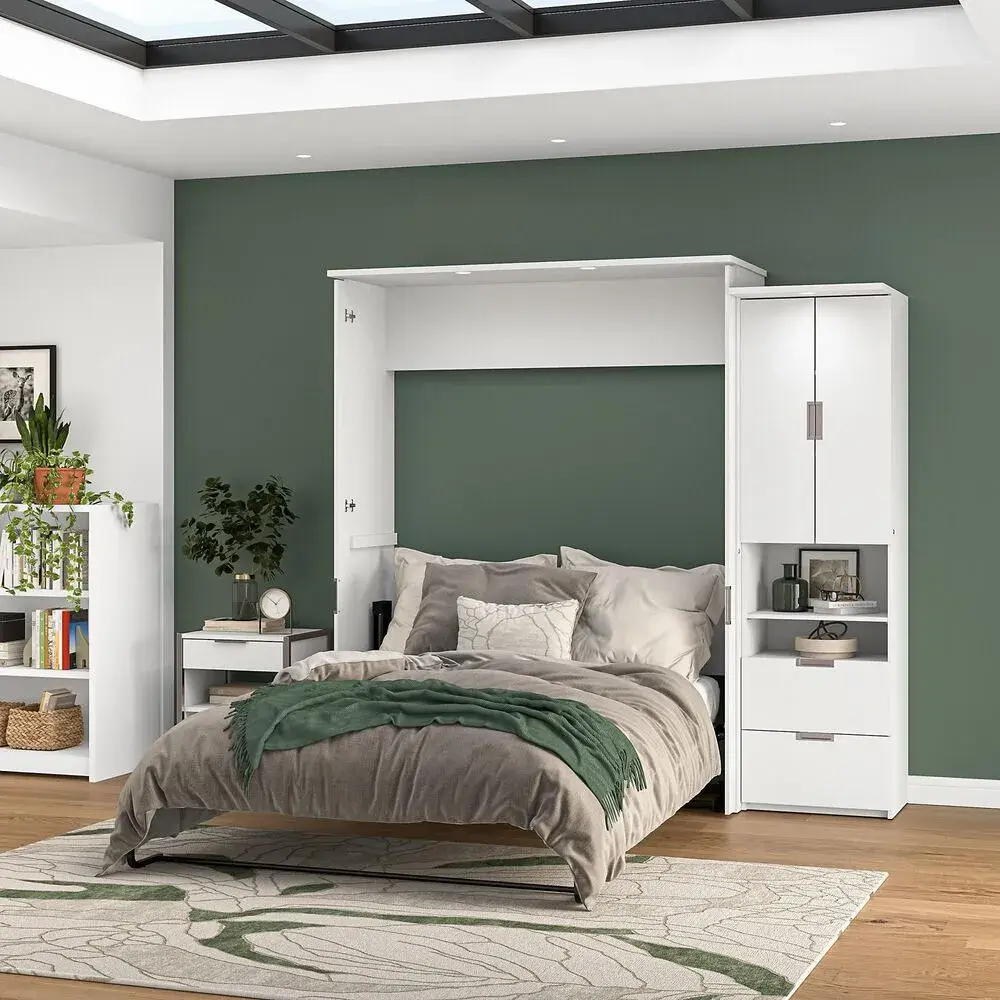 If seeking comfort, The Bestar Murphy bed provides ultimate comfort with its distinctive Euro slat mattress foundation, ensuring a peaceful night's rest.
---
Are Murphy beds comfortable?
A comfortable Murphy bed requires a good mattress, however, it's important to remember that the mattress is often not included in the purchase and must be bought separately. It's recommended to budget accordingly and select the one that suits your needs.
---
What to Look For in a Murphy Bed?
When shopping for a Murphy bed, it's important to consider the following factors:
Space
Measure the area where the bed will be placed to ensure it fits and that there is enough room for it to be opened and closed comfortably.
Size
Consider the size of the bed, including the mattress size and the bed frame size, to ensure it fits your space and meets your needs.
Price
Murphy beds range in price from $1,000 to $3,000, varying based on factors such as size, features, and specifications. This makes them significantly pricier compared to typical platform beds, especially if a mattress needs to be purchased separately. If you're on a tight budget, opt for a Twin-sized bed or a foldable cot bed that does not attach to the wall.
Material
Look for a bed made of high-quality, durable materials such as solid wood or metal to ensure it lasts for many years to come.
Style
Choose a bed that fits your style and complements the décor of your room.
Mechanism
Ensure the bed has a smooth, easy-to-use mechanism that allows you to open and close it with ease.
Mattress
Consider the mattress and whether it is included with the bed or if you need to purchase it separately. Make sure it is comfortable and fits your needs.