Maximizing square footage is a must in tiny houses, you can use your space efficiently with the right multi-purpose furniture, adding built-in bunk beds might be one of the best options to maximize space and provide a one-of-kind perspective for a guest bedroom. You may think that full-size bedroom furniture appears better, but we have a few bunk bed ideas that may change your mind.
In fact, Bunk beds require less space than full-size bedroom furniture if it is well-designed and of course, it is possible to contain large groups in built-in bunk beds.
Here, You'll find some astonishing bunk Beds ideas to take your sleeping arrangements to a whole new level.
Custom-Made or built-in Sneaky Storage
With elegance and modernity, this bunk room feels both kid and adult-friendly. And if your bunk room lacks space, adding built-in drawers will provide extra storage to store your clothes, things, and more, so the built-in features make this sleeping layout all the better.
---
Add a Pop of Color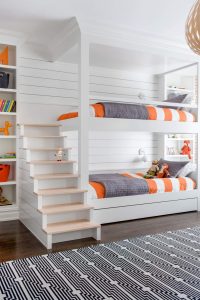 This room strikes a good balance between playfulness, fun, and a space where children can grow into. The pops of color—we're obsessing over the orange elements—make it kid-friendly, but the wallpaper and the bed shapes feel a bit more sophisticated.
---
Consider Longevity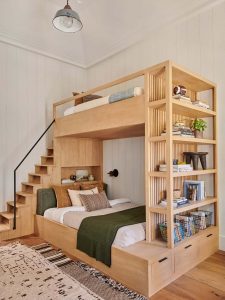 This bedroom designed by Amber Lewis is going. With a full-size bottom and twin on top, this is a bed that a kid can grow into as they get older. The larger size makes it feel more mature and spacious, while the soft colors and playing space make the room feel a bit more youthful.
This bunk bed also comes with a custom staircase, a built-in bookcase, and carefully concealed drawers at the bed's base for extra storage having the structure working double duty in multiple ways.
---
Add a Slide
Have you ever seen a unique bunk room? This bunk bed that designed by Studio Lifestyle. Aside from being the ultimate sleepover space, It's also a nice playroom for kids.
---
Go Natural and keep it Minimalist
A quiet, neutral room can be a relaxing space for both kids and adults. This kind of look is ideal for guest rooms and lake houses that aim to cater to more than one couple. They're astonishing design-wise, and while they're not bold and colorful ( it's so minimalist), let's be honest, little ones will be enthused by the unfamiliar design.
Consider A Multifunctional Bunk Bed
---
eSmart Core Low Bunker Bed
This bunk bed is one of the great solutions for Children's rooms. It comes with a wide-deep bookshelf so it can contain large items.
It can be customized with an L-shaped desk for study or with drawers to store your clothes.
---
Elevate Bunk Bed Sleeper Sofa
The Elevate Bunk Bed Sleeper Sofa offers an incredibly innovative sleep solution for extra guests.
The Elevate converts from a sofa to a bunk bed with two sleepers!
This novel design is handcrafted using manufacturing practices, minimizing waste, and utilizing local resources.