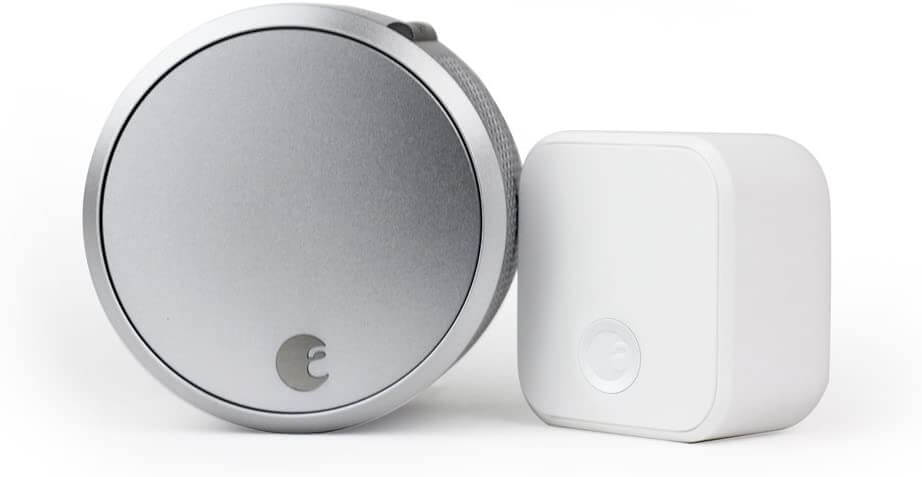 If you are ready to ditch Your keys, the August Smart Lock Pro is one of the best choices for you. It gives you the ability to lock and unlock your door from your smartphone or your Apple watch. Also if You're coming home with your hands full, The August Can automatically open the door for you.
The August and Connect bundle contains a retrofit August Smart Lock Pro, a Connect Wi-Fi module, and a DoorSense open-close sensor.

The August lets you modify your existing deadbolt, so you don't have to rip out the entire latch. But you'll need the August Connect Wi-Fi bridge to use all the features.
Pros:
Easy to install, Works with most standard deadbolts.
Voice activation feature.
Sleek design.
solid app experience.
Works with Alexa, HomeKit, Google Assistant, and more
Geofencing and IFTTT support.
Comfortable Auto-Lock and Auto-Unlock features.
Cons:
Costly.
Requires extra components to control the lock remotely.
No alarm.
Features
Identify when your door is unlocked and locked.
Auto-lock and Auto-unlock features.
lets remote control of door lock from anywhere.
Allows guest access.
Sends customizable notifications
Works with many smart home platforms, like Google Assistant, Amazon Alexa, and Apple HomeKit.
Modifies your existing deadbolt.
Integrates with smartphones and Apple Watch
Comes with two-layer encryption and two-factor authentication
August Smart Lock Pro Installation
In conclusion: As well as Door Sense technology, you'll know your door is fully closed and locked. It'll even lock itself when you leave your house. Also Works with Apple HomeKit and Z-wave wireless home control technology, Alexa, Google Assistant, The Wink Hub, and Samsung's SmartThings. Additionally, the smooth installation process, a solid app experience, and lots of useful features and smart-home integrations make the August Smart Lock an excellent choice.
Related articles:
Nest x Yale Lock Review: The Perfect Blend of Style and Security